Guest article by Truthful Loving Kindness
Tru here. Changes are happening in America's dementia communities. The Alzheimer's Association and the National Institute on Aging have expanded the definition of Mild Cognitive Impairment (MCI).
In the past three months, five friends and I have seen specialists and returned with the new MCI diagnosis. Some thought MCI would be an initial and temporary diagnosis until the source of cognitive impairment was identified. However, several of my friends have received diagnoses that include MCI, such as MCI with underlying Lewy Body Dementia, Alzheimer's, or Fronto-Temporal Dementia.
I understand this change is due to a relabeling of symptoms, which were included under the umbrella of dementia.
Study results stated in "Revised Criteria for Mild Cognitive Impairment May Compromise the Diagnosis of Alzheimer Disease Dementia":
"Almost all (99.8%) of individuals currently diagnosed with very mild AD dementia and the large majority (92.7%) of those diagnosed with mild AD dementia could be reclassified as MCI with the revised criteria, based on their level of impairment in the Clinical Dementia Rating domains for performance of instrumental activities of daily living in the community and at home. Large percentages of these AD dementia individuals also meet the revised "functional independence" criterion for MCI as measured by the Functional Assessment Questionnaire."
Angela Lunde of the Mayo Clinic's Alzheimer's Disease Research Center wrote [11/24/2017: Original link broken – removed]:
"… it's good to try and sort out the confusion among the terms mild cognitive impairment (MCI), dementia and Alzheimer's… The terms are often used interchangeably and can have varying interpretations even by healthcare professionals… it gets confusing… because the lines between normal age-related memory loss and mild cognitive impairment are blurred and overlap, as are the lines between MCI and early stage dementia caused by Alzheimer's."
From the Mayo Clinic:
Dementia
"Difficulty communicating or finding words"
"Difficulty with complex tasks"
"Difficulty with planning and organizing"
"Difficulty with coordination and motor functions"
"Problems with disorientation, such as getting lost"
MCI
"You forget things more often"
"You forget important events such as appointments or social engagements"
"You lose your train of thought or the thread of conversations, books or movies"
"You feel increasingly overwhelmed by making decisions, planning steps to accomplish a task or interpreting instructions."
"You start to have trouble finding your way around familiar environments"
"You become more impulsive or show increasingly poor judgment."
I believe the differences are very slight and far from objective measures. No wonder I hear of inter-facility conflict over which diagnosis best suits an individual.
For us in the U.S., this change of words from dementia to MCI prevents membership in some communities.
Some of my friends have kept their change of diagnosis private, as they do not want to lose their sense of belonging in select "dementia" communities. Nothing has changed, just the label. Our symptoms either remain the same or are intensifying. Yet, those of us who have gone public with our new MCI diagnosis are now getting the feeling "You don't belong here." We're losing the closeness we once felt among others with dementia.
The relabeling from dementia to MCI has divided the dementia community.
We're being marginalized among those called to serve as spokespersons advocating for dementia awareness.
More significantly, the change in terminology will likely affect our qualification for Social Security disability benefits. Why visit a specialist for an updated diagnosis if we're to lose our benefits?
Many of us find it an exhausting ordeal just getting dressed in the morning and coordinating breakfast. How could we ever compete in an already tightly competitive job market?
As we try to raise awareness in order to reduce the stigma of dementia, we have a new challenge ahead — to raise awareness of the potential for damage caused by this change to MCI. While health care costs continue to rise, many of us living with dementia symptoms will be stigmatized by our government (lose benefits) due to this new diagnosis of MCI.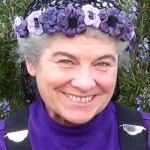 Truthful Loving Kindness changed her name in 2007 to remind herself and others of this (TLK or as she writes, Tru) as goal. Wife and mother of four, grandmother of two, she writes and speaks to help bring awareness of dementia issues. She compiled Dementia Success Stories, which are accessible online.
This article has been edited and abridged. Tru explains that her university-level comprehension has declined to a 4th grade reading level. It takes more words for her to express what she is trying to say. To read her unedited articles on her website, click on her name above.
Additional information re: Alzheimer's and MCI
New Criteria May Change Alzheimer's Diagnosis
New diagnostic criteria would reclassify nearly all cases of very mild Alzheimer's dementia as mild cognitive impairment. Why that may not be a good idea.
FREQUENTLY ASKED QUESTIONS -Publication of New Criteria and Guidelines for Alzheimer's Disease Diagnosis