There's a saying among people who work with people with dementia: Meet one person with dementia and you've met one person with dementia. We can't generalize among the diverse ways the 100-plus types of dementia unfold in people's lives.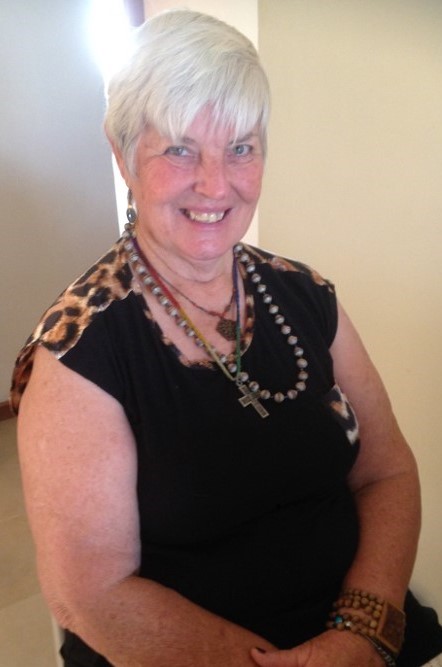 This has been The Caregivers Voice experience during three years of in-depth interviews featuring VOICES with Dementia and 20 years of speaking and writing for and on behalf of caregivers for people with dementia. New South Wales-resident, Valerie Schache (pronounced SHA-kee) made clear her unique attributes by raising the bar of correspondence to unprecedented levels.
Eager to Share
I raised the white flag and begged Val to pause the information flow after she replied with 13 attachments to my simple email request. In hindsight, it's funny, because she wrote in an email to several of us, "We are only getting crook or hammered one at a time and not en masse." Meanwhile, she crook and hammered my inbox, en masse!
After trying during one of my crazy busy months to schedule a call, she wrote: You got enough to choke a horse. We speak a common language, yet we do express ourselves differently. For example, her Facebook group is called, Dementia is a WORD not a sentence.
English being my second language, I interpreted this to mean dementia is not a full sentence, such as one of the sentences you are reading here. This is where we began our Zoom video call a couple weeks ago. I ask, "Valerie, what do you mean by…?" She begins to paint a picture… and then it clicked… Ohhhhh! That kind of sentence… as in prison sentence!
Personal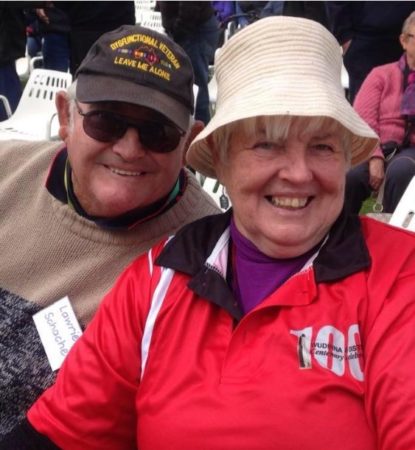 Val is a youthful and spirited sixty-five-year-old adventurous grandma of eight and mother of three. She lived a nomadic life traveling with her bestment [husband], a Vietnam Vet, who lives with PTSD. He had just learned he beat prostate cancer. That same week in August of 2015, Val was diagnosed with dementia. Finally, she had a label for all her symptoms. They obviously share a sense of humor. Just look at his hat: Dysfunctional Veteran Leave Me Alone.
He had retired ten years earlier and she sold her acupuncturist and physiotherapist business to become a "SPANHK – Super Personal Assistant Nanny House Keeper" for her eight grandchildren. The youngest five were under age five.
Medical
She often writes in short phrases, such as, "Attacked by dementia for 17 years… no family history. Younger-onset dementia with Lewy bodies. Earlier diagnosis of Fronto Temporal Lobe dementia (FTD) still affects Anterior Temporal Lobe Dementia bilateral – my bizarre 'savant-type' sequencing issues are this deficit."
During our call, I ask her to explain. She begins at the beginning with her earliest diagnosis. But all I want is to learn what she means by "savant-type sequencing." Val obliges, "Anything I have read and/or heard, I can recall perfectly. This is why knowing my stuff makes me so bloody formidable." She pauses, then adds, "If I am given verbal instructions, I am lost. I have issues with sequencing – the third and fourth instructions are difficult to remember."
For 32 years she served as a community acupuncturist and physiotherapist. She writes, "As an expert managing complex pain, I liaised with dozens of general practitioners (GPs) and specialists, including a decade as a consultant in a nursing home's dementia wing. Using acupuncture, physio and commonsense, I eased complex pain. In the 1990s, I implemented slow-release morphia for pain with supplements for soft-bowel motions. This is still the best model."
"Physically and cognitively I am the best I've been in ten years because of Aricept and the Bredesen Protocol (BP). In a stream-of-thought email, she adds: "[If I] Miss my morning medication of donepezil hydrochloride 10mg Aricept plus a handful of supplements – Brain Fade as brain battery charge goes – by eight hours I'm getting lost in a car park – not recognising I have my medication with me to take – can't use my PIN on key card getting emotionally angry/upset… Take the tablets – within 20 minutes brain battery charged – brain acuity crystal clear emotionally stable – sharp as a tack ready to be adventure grandma again… Unbelievable."  During our video call she adds, "I call Dr. Dale Bredesen the 'accidental hero of dementia.' His expertise is healthy aging. I'm living proof of the BP in action." (Simply put, the BP involves nourishing oneself with wholesome foods and supplements and strengthening one's mind and body with enough exercise and sleep.)
We talk briefly about the recent announcement of Bill Gates' pledge to fund dementia research. She's ecstatic that he's offering to fund research into non-mainstream and integrated medicine. "We'll have a tsunami epidemic if we can't stop it," she adds.
Philosophy
In her short phrases, she writes about herself, "Bold as a hyena – not intimidated by anybody/ anything." When people refuse to believe that she has dementia and continually question her diagnosis, she considers it a form of elder abuse.
See the slide from one of her conference presentations that sums up her concern.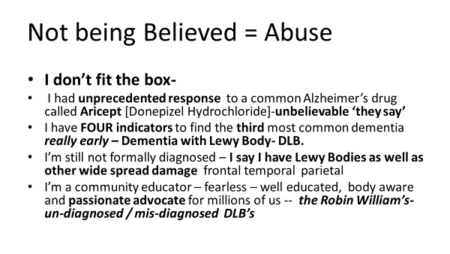 She writes, "Born for such a time as this – a trusted polished arrow with trimmed tail feathers accurate and to the point with bite. I moved from 'Valerisms' to 'Valzheimers.'" Despite all she's been through, she operates as a gentle soul, "Don't bust your pooper," she advises me during one of my hectic try-to-fit-in-everything-plus-more weeks. "I've been waiting two years for my story to be told – longer doesn't matter. You don't burn out!!"
She is willing to do whatever it takes to reduce the STIGMA of "this fearful terrifyingly stigmatised dark place [when the] phone stops ringing – 'friends' disappear – even family support stalls – but the 'black dog' calls. I'm a pit bull terrier with lipstick. Being heard is healing – be aware – be an advocate – care and share."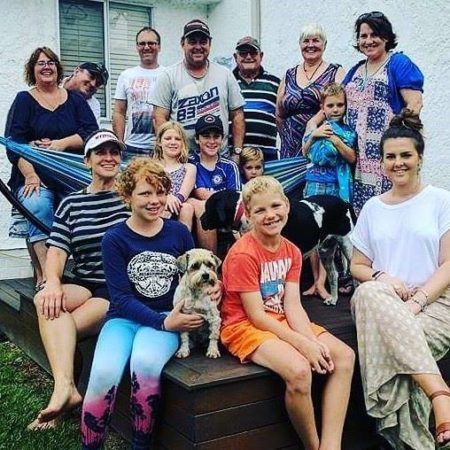 She accepted the opportunity to serve on the Dementia Advisory Group of Dementia Australia, the national body encompassing the leading dementia organizations.
While Valerie Schache can be bold as a hyena, she credits her kindness to the Australian tradition of always looking after your mate [friend]. Her advice: Be Kind. Always be kind. Be inclusive. Look out for your mate who has dementia. Include us and keep us safe.
She invites you to look after your mate by donating to Dementia Alliance International – an international organization founded and operated by people with dementia who help themselves and their peers with dementia. Help raise awareness and reduce the stigma with a $25 donation. Every bit helps. Tell them Val sent you!
"THIS is MY JOURNEY.
I live an EXUBERANT life beyond dementia."