Fifty-eight-year-old Phyllis Fehr of Hamilton, Ontario was enjoying an eighty-degree sunny day at her home about an hour's drive west of Niagara Falls, while I shivered in the low sixties in Southern California during our Zoom video call a few weeks ago. How fair is that? Well, if you're old enough, you know there's a lot in life that's not fair. When younger-onset Alzheimer's steals your ability to mix a particular medicine – something you've done for decades – life's not fair. When you forget details, and are overwhelmed with multi-tasking – essential skills of an ICU nurse – you know life's not fair.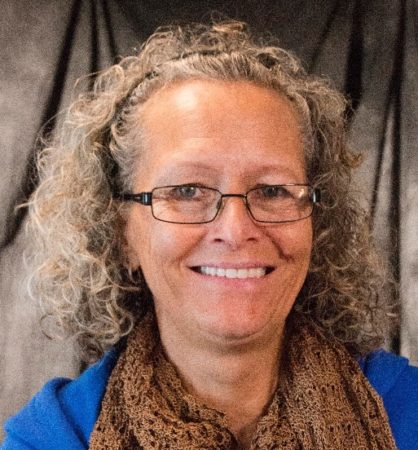 Suspected Familial Dementia
Like most people with dementia, Phyllis knew something wasn't right. Three years prior to receiving the first of two diagnoses, she went to see her family doctor.
"You know, doctors go through that gamut. 'It's stress. It's depression.' I really felt my family doctor didn't want to give me the diagnosis," she explains during our video call. "I think it's tough on doctors to give a life sentence. So, I lied and said my migraines are back. He referred me to a neurologist."
Being a medical professional, Phyllis believed she was putting her patients at risk. So, she took a leave of absence. "My grandmother had dementia, and my mother had it, and all her sisters. I took care of all of them. When you go through nursing training, you may get only a half hour of training in dementia. But taking care of my family; I really got the training."
A Geriatrician's Inexcusable Behavior
"As soon as I walked in the neurologist's office, she asked with surprise, 'Your migraines are back?' I admitted I lied. We knew each other from working in the same hospital. I took care of two of her family members at the end of their lives."
"She immediately sent me off for testing and referred me to a geriatrician. The geriatrician looked at me and said, 'Well you're not too bad. Let's see you in another year.' A year later, she wanted to postpone again. I told her, 'I want… I need testing. I work in an ICU unit. I put myself on a health leave of absence as I didn't want to harm anyone.' She referred me for neuro-psych testing. When the results came in, the geriatrician didn't even look at me. Instead, she turned to my husband and said, 'Yes, she has Alzheimer's. She can still dress herself, so bring her back when she can't.'"
"I was fuming. I went to my neurologist and said, 'I never want to see her again!' I want early intervention. After three years, I received the initial diagnosis of younger-onset Alzheimer's."
"The neurologist put me on meds. [The medications] cleared the brain fog, but caused severe GI problems. I lost a lot of weight. I was down to 98 pounds." [She is 5' 5".] Phyllis eventually went on the patch, which worked as well and without the gastro-intestinal issues."
Adding Lewy Body Dementia to Her Alzheimer's Diagnosis
Together since 1982, Phyllis and her husband Tom, raised a blended family of nine children, including foster children. "Would I have cared if I got dementia at age 70? No. Most people with Alzheimer's are older. When you get it younger, it really messes with your life. [A major understatement!] I planned to work for another 15 years. I couldn't do that."
"What's sad is some younger people with dementia don't qualify for disability. They're still working and after making mistakes they get fired. They lose their benefits. This really bothers me. We need to be better protected and better supported."
"When I was initially diagnosed, it was like I was kicked in the gut. Even though I knew what it was, I don't think I was ready. Even in my mind, I thought, young people don't get it. Then, you come home and you go through this time of, OH MY GOODNESS!"
"From watching my mother, some of the things I did early on was my Power of Care. Being a nurse, it was very detailed. Most important, no feeding tube… no heroics. I looked at all the nursing homes. I decided which two my children could put me in."
Two years later, at age 53, in addition to Alzheimer's, she was also diagnosed with Lewy body dementia.
Her Family Reacts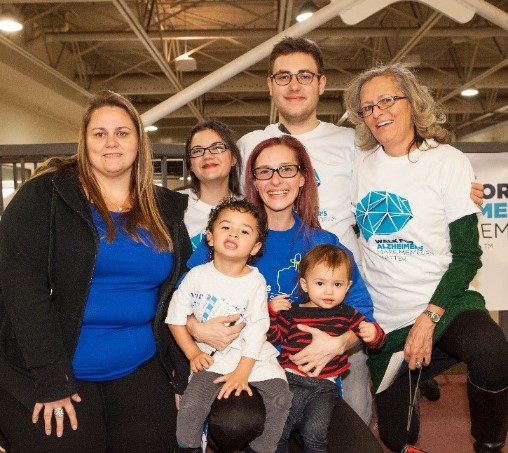 "My family is the most supportive with whatever is good for me and whatever I want. They are there and helping when and where they can."
"My biggest joy is my family." Her husband, Tom, interjects from the kitchen, while putting the dishes away, "That's because we're such great people."
"I still have my driver's license. Every now and then I say, "Let's go out for a drive and you can critique my driving. Tom pays attention and says things… There's the other side of the coin, though. If I had an accident…."
Fortunately, Phyllis has enough presence of mind and freedom with her family's support to be responsible about driving. Just as she initiated a leave of absence before causing potential harm to a patient, she says, "If I'm not having a good day – foggy and not thinking clearly – I'll ask Tom or one of the children to drive."
Some of the Work She's Doing Since the Diagnosis
"I use my nursing background and my lived experience in my work, today."
"When I got my diagnosis, my nursing friends were upset. I told them, 'I'm upset, but not as upset as you are.' I look at it this way. When one door closes another one opens. Because I was involved with my grandmother, my mother, and her sisters, I feel that dementia has lead me on a path to where I am today."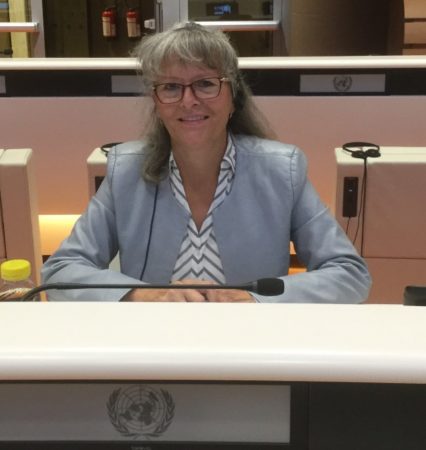 "I was Vice Chair of ODAG [Ontario Dementia Advisory Group] and am now a human rights specialist. We're in discussions with the Canadian government on human rights in the Canadian Dementia Strategy. I helped write the Shadow Report for Canada to do with the Charter of Rights of People with Disabilities. Then DAI [Dementia Alliance International] asked me to speak in Geneva earlier this year for the Open Session on the new Charter of Rights with People's Disability (CRPD) Committee."
Beyond the international stage, where she also serves as a member of the DAI Board, Phyllis continues her advocacy regionally with the Alzheimer's Society. She even participated in a Dementia Hackathon.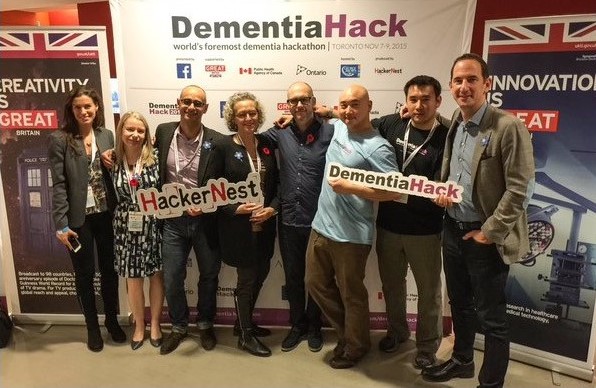 She is also involved with research studies, including one on amyloid plaques. Yet, she says, "Researchers are focusing on a cure [which won't help most of us alive, now.] More research dollars need to go into how to help a person live well. We need more social research to help people live well with dementia at home, in assisted care, and in other settings."
Phyllis Fehr first came to my attention when she and Beth Wighton were featured in the Women with Dementia Living Strong video, last year.
Thank you, DAI, CEO, Kate Swaffer for helping The Caregiver's Voice get in touch with a much-admired Phyllis Fehr – her admiring fans include Mary Beth Wighton, Carole Mulliken, and unfortunately, Lewy and Alzheimer's.