Each person I've interviewed for this Voices with Dementia column surprises me. Before Brian LeBlanc, who also lives with dementia, referred me to Nancy Nelson, he wrote, "We're all snowflakes." Well Snowflake Nancy made me smile until my face hurt.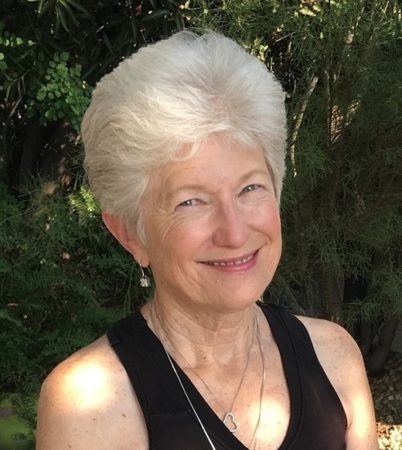 Nancy's life changed when she forgot three words. Her doctor asked her to recall the words at the end of their conversation – part of a memory assessment. Today, she remembers those words as they symbolize her Alzheimer's advocacy.
"Blue.River.Apple."
Heart Surgery, Anesthesia, and Memory
A year earlier, she noticed she was forgetting entire conversations with her clients, including their names. Too busy to figure out why, she wrote copious notes. She even invited a colleague to accompany her, explaining that a second set of ears would be better.
She was healthy. She was training for a half-marathon when in 2012, she found herself unusually short of breath. She had a doctor's appointment a few days later and mentioned to her doctor, "You know, I'm not thinking straight. These are the things that are happening to me." She explained during our interview, "He had heard me talk before about memory and he was knowledgeable, having worked with one of the leading dementia researchers."
"He said gently, 'It sounds like you might have a memory problem.' They started doing some tests, when they discovered I needed to go in for an aortic valve replacement. When I came back to work after surgery, my memory was so much worse. They said, 'It's because of the anesthetic used during heart surgery.' So, I waited a year but it didn't improve."
Receiving the Diagnosis
While the sun shined on Las Vegas, cloudy skies covered Nancy and her younger daughter. They held hands as they waited nervously to be seen by the neurologist.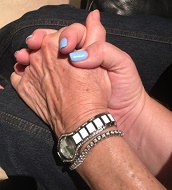 "How did the neurologist tell you?" I ask. Everyone with dementia I've talked with vividly recalls almost every detail of receiving the diagnosis. I hear a long sigh.
"I wouldn't recommend this… him," she begins. "We waited for two hours just to be called back to the small room. Then we waited again until he walked in. Without looking at us he placed an x-ray in the light box and began talking. He finally turned around and looked at me and my daughter and said, 'You have early-onset Alzheimer's disease.' He immediately pulled out a prescription pad and wrote me a prescription for Aricept, saying, 'I want you to take this and then see us in… I want us to do further testing.'"
Nancy and her daughter sat in shock, trying to digest a diagnosis for which there is no cure (yet) and the doctor was already working on a treatment plan!
Advice to Doctors
Know that your patient is nervously hoping to hear something not as bad as they feared. After days, weeks, and even months of sleepless nights, your patient will cling onto every word you say and every action you take. For you, this is routine. You've seen these symptoms a hundred if not a thousand times. For your patient awaiting your sentence (diagnosis), this is the first time. No matter how full your schedule, be mindful of how you share a life-changing and terminal diagnosis. Your words and actions are mere ripples that will soon grow into a tsunami, drowning your patient, her family, co-workers, and friends.
Supportive Loving Family
On that September day in 2013, Nancy says, "We get outside and in the car and hug one another with tears in our eyes."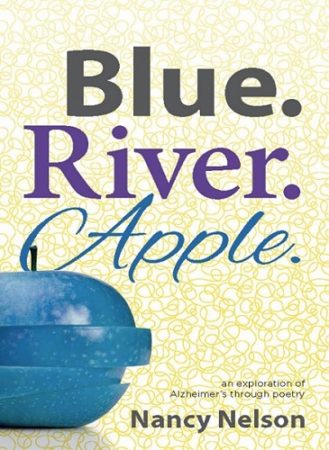 After telling her older daughter, Nancy adds, "Both girls respond kindly. They only share the positives and encourage me to do what I want to do. I'm very lucky."
In 2012, Nancy, her younger daughter, and son-in-law, bought a home to live in together with her two grandchildren. Nancy has her own office and patio where she enjoys the outdoors and her private bedroom, upstairs.
During the months that follow the diagnosis, she is tortured by moments of forgetting a name, an appointment, a word or phrase to express her thought. Amazingly she takes up poetry. After writing lessons, writers' groups, and conferences, she releases her frustrations and worries through her newfound talent as a published poet.
I ask, "Does your Alzheimer's ever create issues with your family?"
Nancy, the Brave Worrier?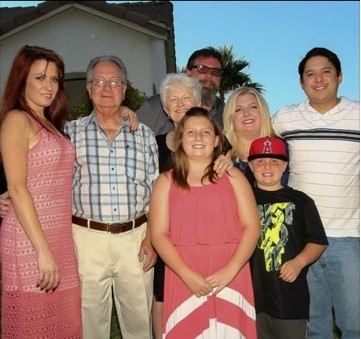 "I worry every single day. Did I do the right thing by telling my children and grandchildren everything? I see the tears in their eyes when I can't find my way. I can still drive. After 50 years in this city, I sometimes cannot connect one street to another and have to pull over to the side and calm myself down."
Today's journey:
Develop courage,
Splash on a smile,
Be who I want to be,
Not afraid of who I am becoming.
Before Nancy became an Alzheimer's advocate and spokesperson, she sold insurance policies. Before that, she sold "underground real estate" for a mortuary. That's how she introduced herself at morning networking meetings. Prior to that she worked at the ticket counter and gate area for an airline company for 26 years. This afforded her the opportunity to enjoy travel around the world.
Nancy – Alzheimer's Awareness Advocate and Spokesperson
Three years ago, she raised funds through a Kickstarter campaign. She wrote, "Millions of Americans struggle in silence afraid to divulge their secret… I'm standing up to be counted… for them and for me… we'll walk through the fear of diagnosis and the hard, cold dementia realities, together."
On her blog, she writes, "I want to know everything. And that means sharing my fears and asking my children and grandchildren to investigate AD with me. We've done that together, hand in hand. Sometimes I think I am wrong to ask them to help shoulder the burden. I wasn't given that chance when my dad was diagnosed. I didn't know how to deal with the angst and anger he displayed – yelling as he raised his fist up to my face. I was horrified for him and for me. I do not want that for my family. My decision to include everyone may not be the way you'd handle it for your family. It's a personal choice we all need to work through."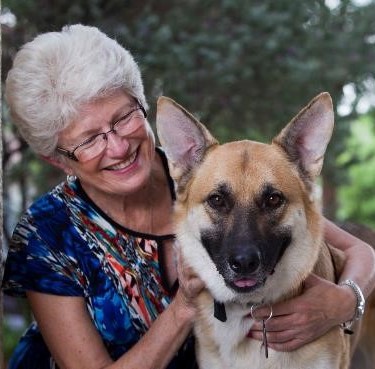 Meanwhile, Nancy exudes a lightness of spirit.
Advice for the Rest of Us
"What advice do you have for us PWoDs?" I ask. "You know, if you're a PwD (Person with Dementia) then I'm a PWoD (pronounced PEE-wahd or Person Without Dementia)," I explain.
She laughs and exclaims, "I like that. Can I use it?"
"Only if you give me credit," I reply with a chuckle.
"My advice to PWoDs is by putting my life out there, I hope that people can understand my silence, resistance, and lack of comprehension. People will walk around me and no longer talk with me. They will not share eye contact with me. I recognize that they're fearful, because they don't understand. I hope that they walk away from my speeches and outreach knowing that it's okay to venture into the diminishing world of memory loss."
"Does anyone ever approach you and say, 'You don't look like you have Alzheimer's?'"
"All the time," Nancy replies.
"How do you react?"
"I thank them. I tell them, 'I'm not trying to own this diagnosis.' I know there's a window in every room and sunshine on the other side. And I'm going to be the one that goes through that escape hatch with the sunshine, because I know that everything will be okay."
"Everything will be okay?" I ask.
"I will live through the diagnosis – a long healthy life with this diagnosis."
Do I stay home, cancel, quit?
Or fight for rite of passage through the fog?
Silently, I say, I am not what I appear.
I am sorry for what you see.

Breathe in courage,
Splash on a smile,

Struggle to remember …
Remember, Blue.River.Apple.