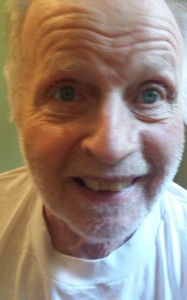 The Caregiver's Voice builds a bridge between care partners and people with dementia for our first VOICES with Dementia article. Beginning with a decade-long caregiver's heartfelt piece written in his father's voice, future posts will feature people with dementia whose VOICES must be heard.

A morning through my father's bright blue eyes
Guest article by Vince Zangaro from his father's point of view.
When I open my eyes in the morning, I feel scared. Where am I? Where have I been? Do I know this place?
I look to the right, and the people there are sleeping soundly. I can't remember who they are, but I know they love me and I love them; I feel safe.
The light turns on, and I can see a man come up to me and give me a kiss on the forehead; I feel safe.
The man is looking at me with a smile on his face, and today might be okay. He helps me get out of bed and takes me to another room. I feel very nervous, but he sits me down on the stool, and I feel warm and cleansed by a warm mist; I feel safe.
I'm a little cold, and he makes me feel a little warmer with a cloth. He pulls me up and helps me to the restroom. The man keeps cheering me on, so I guess I'm doing okay; I feel safe.
He moves me to another room, and it is bright and birds are chirping; I feel safe.
My stomach is empty, and he helps relieve that feeling; I feel safe.
My vision is a little bit hazed, but I am able to see these blocks of color. He encourages me to interact with them; it feels very familiar; I feel safe.
I hear sounds in the background through the static in my ears; I feel safe.
This goofy man makes me laugh; his voice reminds me of someone I should know; I feel safe.
He rubs my back and holds my hand; I feel safe. 
I get fragments of moments, but they're gone; it is so frustrating. The man kisses me on the cheek and hums to me; I feel safe.
He says it's only 10 am, and I have worked so hard this morning that I deserve a nap. It all seems overwhelming, and the man helps me to a chair were he sits with me while I close my eyes; I feel safe.
While I drift off to sleep, I pray he is here when I wake up; he helps me feel safe.
I open my eyes in the afternoon; I feel scared. Where am I? Where have I been? Do I know this place?
I look to the right, and a man comes up to me and kisses me on the forehead. I don't know who he is, but I know he loves me and I love him; I feel safe.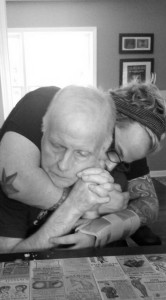 Vince Zangaro is an Atlanta-based musician on a mission. After his father was diagnosed with Alzheimer's, Zangaro left his corporate job to be a caregiver. In the process he learned lessons that have reignited his love for music allowing his songwriting and storytelling talents to blossom. He is joined by Atlanta's top musicians.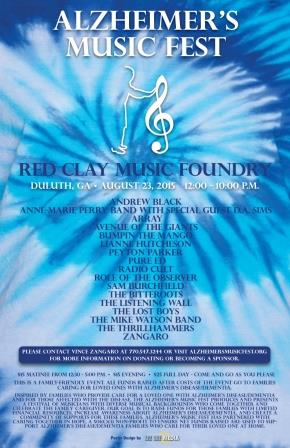 +  +  +
Have FUN, enjoy music, and support a great cause by attending the Alzheimer's Music Fest (AMF) on Sunday, August 23, 2015 in Duluth, Georgia. Inspired by families who live and care for a loved one with Alzheimer's disease or other forms of dementia, the AMF raises funds for families with limited financial resources and helps increase awareness about dementia. Donations go to Caring Together in Hope, a 501(c)(3) non-profit that supports families who care for their loved one with dementia at home.  Click on text link above or on image for more information.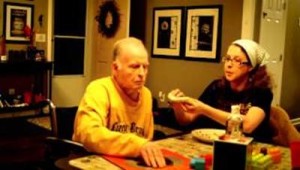 Watch the Better Man Video on You Tube.