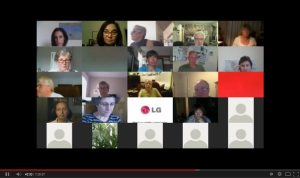 Is it dementia? Or is it war on dementia?
The words we use to talk about dementia are responsible for creating and maintaining the stigma of dementia.
It's time we change how we talk about dementia.
I joined thirty-plus concerned attendees–some with dementia–in an online panel discussion featuring Dr. Richard Taylor (U.S.A.) and Kate Swaffer (Australia). Both are outspoken advocates about dementia despite living with the diagnosis. Laura Bowley (Canada) hosted the hour-plus long panel discussion.
How do the panelists who live with dementia feel about how we talk about dementia?
Dr. Richard Taylor (paraphrased): When we fight wars we divert all our energy to winning the war from helping those who currently live [on the battlefield] with dementia.
The panelists agree that we need to consider and help those who are currently living with dementia. Too many of our dollars and our attention is focused on research to find a cure. After decades of research to find a cure, we've spent billions on research and are no closer to a cure. Meanwhile, people living with dementia and their families are crying out for much-needed support.
Can we move away from using the word dementia?
The new Diagnostic and Statistical Manual of Mental Disorders (DSM-5) renamed it: major neurocognitive disorder (NCD).
Yet, the panelists ask, by if we call dementia NCD instead, do we risk losing the media and public's familiarity with this dementia? Do we risk losing their support and funding because they are unfamiliar with NCD?
Dr. Peter Whitehouse, co-author of The Myth of Alzheimer's, added that the word for dementia in Japan has been changed from chihō to ninchishō; thus, helping move perceptions of a person diagnosed with dementia from  痴  Idiocy or  呆  Stupidity  to  認知  症   Cognition Disorder.
How do we remove the stigma attached to the word dementia; yet, hold onto the connection people have with the word as they  grow aware, understand, vote, fund, or describe these family of diseases associated with cognitive functioning?
Please click below to view this thought-provoking Meeting of the Minds discussion:
If nothing appears in the box above, please click here:   http://youtu.be/5b1pD_WSn3w
For more information:
Dementia Policy in Japan (see page 16) [Link no longer available]