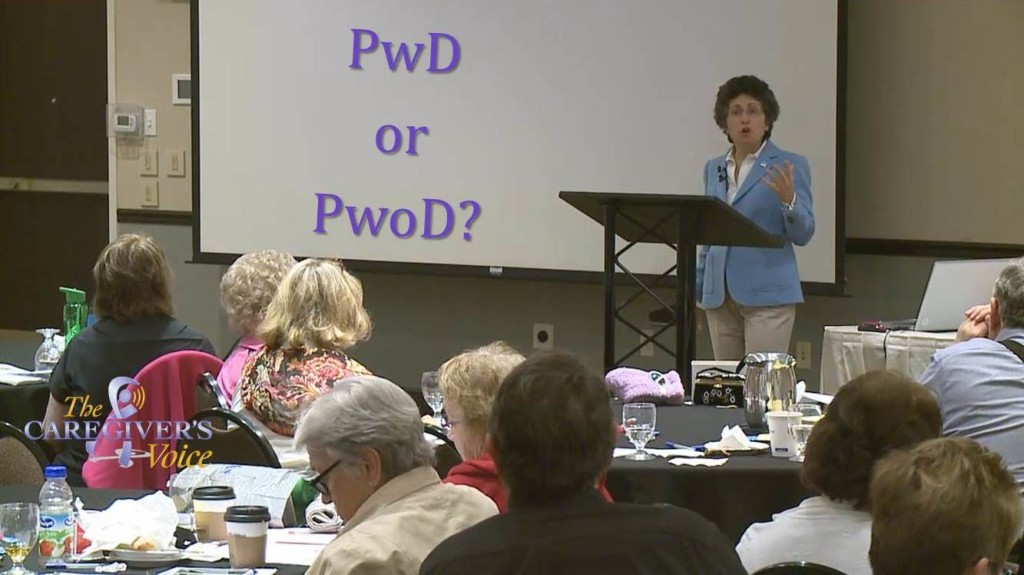 There's been more discussion lately about the stigma of dementia and Alzheimer's. The stigma takes root in the language we use, which shapes what we believe and then affects how we treat people with dementia.
Oftentimes, the media (unknowingly) will use "Alzheimer's victim" or the "dementia sufferer."
The unintended result of this language is two-fold.
One, it places the primary focus on Alzheimer's disease or dementia, a group of symptoms, instead of the person.
I recall a similar language issue, years earlier, when tasked with delivering corporate training to raise employee awareness of the "handicapped." Instead of handicap, our language changed to disabled, and then we focused on the PERSON first – thus, a person with disabilities.
Likewise, we need to keep the primary focus on the PERSON who lives with dementia or Alzheimer's.
Two, we assume that once a person is diagnosed with Alzheimer's or other cause of dementia, he or she immediately enters a class of victims or sufferers. Fortunately, this is not the case.
To help raise awareness and reduce the stigma, more people with dementia are speaking, today. And as we witness more living with vitality, skeptics are exclaiming, "You don't look like you have dementia!" After the initial shock of diagnosis, (dementia is a terminal disease, after all) those who reach out to others with dementia, often discover there are more options in life than giving in to the diagnosis.
Reducing the Stigma of DEMENTIA with a Twist
While we consider how language can help reduce the stigma of dementia, I was struck by a reverse irony following a recent Skype call with Director Kate Swaffer, co-founder of Dementia Alliance International. DAI's focus is on advocacy, education, and support to help members create better quality of lives with dementia.
Undoubtedly, you've seen that people with dementia are referred to as PWDs.
I got to thinking, as a person withOUT dementia, what does that make me?
A PWoD? A Person Without Dementia
Now, if a PWD calls me PWoD (pronounced: PEE-Wahd) to my face, I might start laughing!
Go ahead, say it aloud.
PWoD.
Sounds funny, doesn't it?
We need a little more levity among PWDs and PWoDs to help make the journey a little easier.
As you rise up to the challenges of caregiving, if you ever get tired of using the term caregiver, carer, or care partner, consider the alternative, PWoD! (View the video below for an uplifting 20-second message.) And if you're a PWD getting a little attitude and impatience from your exhausted caregiver, why not break up the tension with a bit of name-calling?
PWoD!
It's going to require a bit of explaining until it catches on.
Who KNOWS? Maybe PWoD will go viral!
(You can help by sharing this post.)
Remember, we're all in this together.
If you are unable to view the video below, click https://youtu.be/t00fKcTKKJk to view on YouTube.