When I began as a caregiver for my father who was initially diagnosed with dementia and then with probable Alzheimer's, few people spoke publicly about caregiving and dementia.
Dementia and Caregiving in the 1990s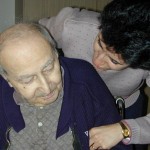 Family caregivers during the nineties rarely shared their experiences beyond a small group.
There was a lack of understanding and stigma about caring for a family member with dementia. People still didn't understand what it meant to live with Alzheimer's. Besides, there were no social media channels like the ones we have today. No YouTube, Facebook, Twitter…  Imagine–life before Facebook!  😉  
In the late nineties, while signing copies of my memoir about caring for my father with Alzheimer's, a Los Angeles family shared their struggle to care for their Mother who lived with dementia. They felt shunned by neighbors and even extended family, because of the "strange things Mom says and does. We can't understand her. She screams, wanders, and even attacked the little ones." They admitted with apprehension that while at work, they leave Mom tied to a chair in the locked attic with the window covered.
Sadly, this family's experience would not be the last time I'd hear caregivers' stories like this.  This was only twenty years ago.
It's easy to be blinded by actions like these when the disease remains faceless. Few people with dementia in the nineties, were speaking.
Major organizations that intended to help us moved slowly when inviting people with dementia to speak and help draft policy. I recall one sociologist with dementia being invited to speak on a panel at an Alzheimer's conference held in one of California's coastal communities.
The voices of people with dementia and family caregivers were unheard.
Being unheard left a void that was easily filled by harsh and insensitive jokes.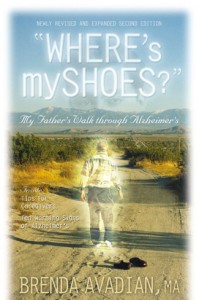 I was one of a handful of family caregivers who spoke and wrote about my experiences following the repeated urgings of fellow support group members. "Where's my shoes?"  is the caregiver memoir, based on a grammatically incorrect question my father repeated constantly, that helped give a voice to family caregivers' experiences.
That was then.
Since the mid-t0-late-nineties, thousands of family caregivers now share their experiences in blogs, community presentations, and in hundreds of books. I've even had the privilege to review some of them!
Dementia and Caregiving, Today
Thanks to social media, families who walk the road of dementia are able to put a face on this disease–many faces, in fact.
Today, people with dementia are speaking out and advocating for themselves and those who cannot speak.
Through their diverse experiences living with different types of dementia, we caregivers learn how to help provide better care for people with dementia. Although, there are common denominators among them, we learn more about how each person experiences life with dementia in a unique way.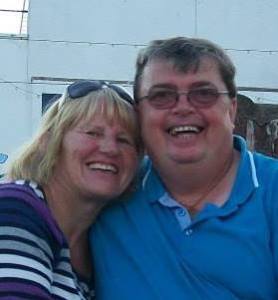 One of these people is Norrms McNamara. Through his good-natured approach that includes plenty of gratitude, he has rallied supporters, worldwide and even invited to join the Prime Minister of England in shaping dementia care initiatives in the U.K.
Norman (Norrms) McNamara is pictured here with his beloved wife, Elaine, who remains by his side through his highs and lows of living with Lewy body dementia.
We have come a long way in our understanding. Although there is not yet a cure, thanks to people with dementia who are willing to speak openly about what it is like to live with Alzheimer's, Lewy body dementia, and more, we're gaining a better understanding of the other side.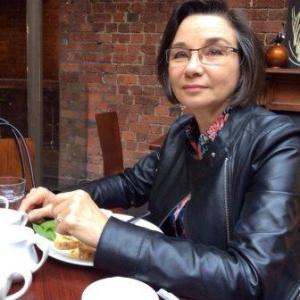 What have we gained by listening to the voices of people with dementia and family caregivers?
Like the POSSIBILITY of achievement after the first person broke the five-minute mile barrier, people like Norrms and Kate Swaffer of Australia, diagnosed with early onset dementia, help us to focus more on the abilities that remain rather than mourn what is lost. Kate has not let a dementia diagnosis stop her from getting a degree. And she's serving as a spokesperson and advocate for those with dementia.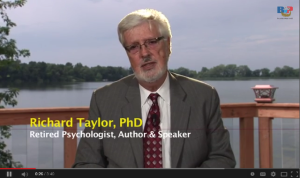 We benefit greatly from spokespersons like, Dr. Richard Taylor, who speaks worldwide and in this video, explains what it's like to live with the stigma of dementia.
Our Work Remains Unfinished
We've made great strides since the 1990s.
Through greater awareness, thanks to the efforts of these three advocates and countless others, I hear fewer insensitive jokes about meeting a new person each time, and instead, a greater focus on the PERSON with dementia who LIVES with Alzheimer's, Lewy body, and other types of dementia.
As we see more of the people who live with dementia, we'll personalize this disease enough to help bring change.
Let's start with a two-pronged approach:
Take legislative action to create a social network of care for millions of families.
Redirect funding to find a cure.
These faces of dementia need not die of dementia as my father, aunt, uncle, and millions of others have.
For more information click on:  The Language of Dementia  and  Dementia care in an African tribe in Namibia