The Caregiver's Voice is celebrating success!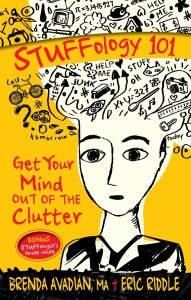 STUFFology 101: Get Your Mind Out of the Clutter was the Top-Ranked title in three categories for five days last month and was named the Top-Selling nonfiction audio title selling 7,000 copies in one day!
With success like this, one fellow author on Facebook commented, It's Time to Celebrate!
As co-author of STUFFology 101, I agree!
Today, many caregivers feel stressed about how to help Mom and Dad reduce some of their lifetime accumulation of possessions. Are YOU?

It took months, traveling back and forth between California and Wisconsin, to clear out my father's home of forty-five years. This was the home I was raised in. Yet my parents' possessions were absolutely overwhelming. I don't want to live through that experience again.

We removed three drive-in-sized dumpsters. Instead of enduring sibling conflicts, we gave away sentimental treasures. I pored through piles and files of paperwork, one sheet at a time, to make sure I had the necessary details in one place. After shipping the rest to California, where we moved my father, I spent years painstakingly going through each and every item to ensure I had a more complete picture of my father's records.
Do you have similar experiences? Please share them in the comment below or on The Caregiver's Voice Facebook page.
And DON'T MISS our three-book special.
You'll receive two volumes of caregivers' joyful experiences caring for loved ones with Alzheimer's and related dementias and help with decluttering. If you already have one of these books, consider buying a set as a gift. The Holidays are just around the corner!  Click on the banner to place your order.


The news keeps coming…
STUFFology 101: Get Your Mind Out of the Clutter was selected by Blackstone (Downpour) Audio as its Editor's Pick the month. And before the end of this year, we should see a new Korean-language edition. What will be next?
CELEBRATE? YES!
But where's the FUN in celebrating alone?
Join us and GRAB these titles at a discount.
Retail: $53 Including Shipping to U.S. Addresses.
YOUR PRICE: $35 including FREE shipping to addresses in the 50 states.
We added this geographical boundary to our shipping after receiving two International orders. One still wanted the books. She even paid an extra $30 to have them shipped!
Don't miss this deal!
The holidays are just around the corner
and then there are New Year's Resolutions.