Ways to prevent elderly trips and falls at home
Guest post by Matthew Ward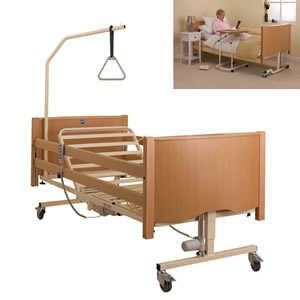 In the bedroom, the bathroom and the toilet there is the potential for elderly people to trip or fall and suffer physical harm. The CDC reports that deaths from falls among older people have risen greatly over the past decade, with just below 30 percent of people who fall incurring injuries ranging from moderate cuts to severe head trauma. This can lead to fear of further falls and decrease levels of independence. Furthermore, almost half of seniors who fall will do so again within the following year. For caregivers, recurrent falls should be seen as a sign that additional support and care is needed.
Causes of trips and falls
Health factors can lead to seniors tripping or falling in the house, with such issues often including the following:
Poor eye sight: When hazards are not able to be seen due to impacted visual awareness of the environment.
Interruption of balance: This can be a result of inner ear changes that are common during the aging process.
Weakness of muscles: Can prevent the ability to stop a fall while in motion.
Parkinson's disease: Because this health condition has a negative impact on mobility and leads to decreased leg strength and balance problems, there is the increased likelihood of trips and falls occurring.
Nutritional defects: When there is a deficiency in vitamin D and muscle weakness is the result.
Judgment: Simple actions like moving too quickly when reaching for an item or miscalculating stairs can cause falls.
Medication: Certain prescription drugs lead to drowsiness, more so if combined with alcohol or painkillers.
Potential hazards: These should be removed and range from loose rugs and carpets, to loose wires and shoes left in regularly used pathways
Promote good health
Caregivers should do their utmost to ensure good health is promoted and maintained. For this reason, it is advisable for seniors to attend regular health check-ups and have the following assessed:
Vision: Missing potential hazards in the house is one of the main reasons for seniors tripping and falling, and should be checked at least once a year. Caregivers may want to consider the benefits of the elderly having specific glasses for different activities.
Exercise: Regular exercise is actually good for increasing strength and balance, with activities such as tai chi, walking and swimming regularly being recommended. However, confirmation should be attained from a doctor to confirm that exercise can be done.
Mental status: Mental health problems can have an impact on elderly people's ability to make judgments and maintain balance.
Make home modifications
This can be a subtle change or two in the bedroom or bathroom that costs little to no money, but which has a major influence on preventing elderly trips and falls around the house. For example, check that the rug in the living room is not folding over and likely to cause a tumble; make sure staircases are properly illuminated and that the lights can be switched on from upstairs and downstairs before going on them; and ensure any items that are needed by seniors on a regular basis can be reached easily.
There are other changes that can be made to make the house environment safer for elderly people, with costs varying and the extent of alterations ranging from person to person. Some things to consider in terms of modifications for the house include:
Bathroom: Bath lifts are another good way of promoting independence and work easily for getting into and out of the bath, with shower chairs, bath steps and tap turners also proving to be excellent ways of preventing unnecessary injuries.
Bedroom: The bedroom can be made safer by installing bed side rails to prevent falls from the side onto the floor or between the bed and wall. If a fall does occur in the night elderly people can be stuck there for some time if assistance is not forthcoming. Overbed trays and tables are a good option for relaxing in bed, while waterproof sheets and covers and contour foam mattresses are a good way of increasing comfort. If needed there is also the option of adjustable beds made specifically for elderly people.
Toilet: A raised toilet seat may not seem like the biggest change but it can be a much safer option for seniors, with grab handles also being a good addition adjacent to a toilet.

Matthew Ward is the Head of Retail and Online at Manage at Home where there is more information about a range of mobility aids for the elderly and disabled. The specialist UK group provides aids that promote independence and regularly blog on areas that matter most to caregivers and people in their care.