November is National Family Caregivers & Alzheimer's Disease Awareness Month
In 1983, three years before his public letter of his own Alzheimer's diagnosis, President Ronald Reagan proclaimed the month of November to be National Alzheimer's Disease Awareness month. Two decades and a year later, the Alzheimer's Association raises the banner on National Alzheimer's Awareness month with their Honor a Caregiver Today campaign.
Meanwhile, the Caregiver Action Network (CAN) leads us in celebrating National Family Caregiver's Month with some alarming details. (The three links below are from CAN's website.] Did you know that…?
Two out of every five adults are family caregivers.
Thirty-nine percent of all adult Americans are caring for a loved one who is sick or disabled – up from thirty percent in 2010.
Alzheimer's is driving the numbers up.
More than 15 million family caregivers are providing care to more than 5 million loved ones with Alzheimer's disease.
Family caregivers perform medical and nursing tasks.
Almost half of family caregivers perform complex medical/nursing tasks for their loved ones – such as managing multiple medications, providing wound care, and operating specialized medical equipment.
For information about dementia risks and reducing them and an overview of types of technologies for quality of life, click on: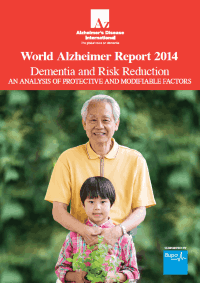 Infographic – What if you could reduce your risk of dementia?
Five simple steps could lead you in a memorable direction.
The World Alzheimer Report 2014: Dementia and Risk Reduction: An analysis of protective and modifiable factors*
Summary on the Alzheimer's Disease International's website (slightly paraphrased):  Critical examination of the evidence… of modifiable risk factors that can reduce the risk of dementia by as much as 50% including: developmental, psychological and psychosocial, lifestyle and cardiovascular. "Dementia [must] be integrated into both global and national public health programmes alongside other major non communicable diseases (NCDs).
The Landscape of Technology for Older Adults
Technology can increase the quality of life for older adults – an overview.
* The World Alzheimer Report 2014 was independently researched and authored by Prof Martin Prince, Prof Emiliano Albanese, Dr Maëlenn Guerchet and Dr Matthew Prina on behalf of the Global Observatory for Ageing and Dementia Care, King's College London. The work was supported by a grant from Bupa.