Grandma Says is a new app inspired by Katie's grandma Elsie
Guest article by Kate Arney-Cimino
My dear grandmother died a year ago last month. She was 98. Elsie lived in Los Angeles where I had moved a few years ago to be an actress… and a waitress.
This was the first time I visited her without my parents and we started to form our own relationship. I learned all about her.
Elsie was tough. Elsie did exactly what she wanted to do. She was born in Brooklyn. Her mother, Katie, came from Russia with nothing except for two gold Russian orthodox crosses around her neck. Katie cleaned hospitals for a living. Elsie married my grandfather who was an illegal Italian immigrant and gave birth to my dad at a very young age. Elsie also adopted my aunt Susan when she was very young and respected Susan's father's wish to raise her Jewish. Elsie smoked cigarettes until she died. She always had high spirits, craved sweets from the local Cuban deli, always had a sense of humor, and loved collared sweatshirts and butterflies (preferably, a collared sweatshirt with a butterfly on it).
Our visits followed a pattern: I would wheel Elsie out back and give her a cigarette and a cupcake or whatever sweet I had, and she would give me dating advice. I asked her one time what she would want in a man and her criteria were three-fold:
He had to be at least one year older than she (so 99 or older)
He had to be able to dance.
He had to be a millionaire.
While this article may be about Elsie, it is inspired by my family's desire to stay in touch with Elsie while she lived in a care home. Even though our family is small, there seemed to be a disconnect in the information shared about Elsie. Applying what I've learned in acting, I began doing something else while waiting for the phone to ring (for updates).
I searched the app store for a product that would help coordinate our visits with Elsie while keeping us on the same page with her health updates. I found an app called "How's My Mom." However, this app is used by care home staff to send updates to families. I wanted to create something that families had control over without adding to the workload of facility staff. They need to focus their time and effort on taking care of my loved one, instead of updating an app.
I created GrandmaSays, an app to inform, connect, and empower family members who have a loved one in a long-term care facility.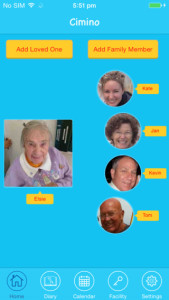 GrandmaSays informs families by allowing members to update health information about their loved one, include notes about their visit, and include a task list for whoever is visiting next. All of this information is synced across the family members who are using the app with the same family name.
I discovered that Elsie couldn't remember any current events. Besides telling her about my life, I didn't know what questions to ask. A questions generator helps visitors learn about a loved one's past such as: "Tell me about your first date." "How much was rent in your first apartment?"
The answers can be voice recorded for all the family to hear, or shared on social media, so your friends can know how spunky she was as well.
GrandmaSays connects family members to their loved one in a new way by creating memories with them.
GrandmaSays also empowers family members by letting them know who has visited their loved one and when. [The Caregiver's Voice: This requires enabling the Location or GPS option on your phone.] It creates an geofence around the loved one's facility to keep track of visits.
GrandmaSays may be a practical app, but it also provides an emotional connection with a loved one's family members. My purpose is to help with the communication among family members regarding a loved one. If I were visiting Elsie today, the update synced among family members would read: Wheeled her around the premises, smoked a cigarette, felt the sun on our shoulders, and we were lucky enough to see a butterfly.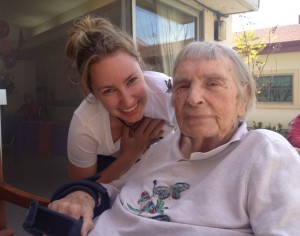 For more information or to purchase GrandmaSays, click on GrandmaSays website or  GrandmaSays itunes app (not yet available for Android).
The Caregiver's Voice has arranged with Kate Arney-Cimino to provide the app for free to FIVE family caregivers who post a comment (below) about how this app can help your family. Comments are due Friday, October 3 by noon Pacific time and a code will be emailed to the each of the five lucky winners on Tuesday, October 7 at noon Pacific time.
Kate Arney-Cimino graduated from Muhlenberg College with a double major in business and Spanish. GrandmaSays is her first app and she is enjoying learning all about the app world. Although Elsie died before the app was launched, she hopes this app will relieve some stress from  families who are caring for their loved ones.