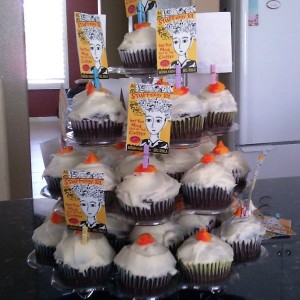 WE DID IT! We had a successful BOOK LAUNCH for Eric Riddle's and my newest book entitled, STUFFology 101: Get Your Mind Out of the Clutter.
Am I proud? Ya' betcha! (That's my native Wisconsin-speak.)
How often do you find someone who says they're working on a book, actually get one published? We talk a lot about writing a book or being almost finished, but there's still a ways to go to release an actual book.
Sixty enthusiastic supporters attended and we were so thankful for each and every one. Already we're learning how this FUN book is helping people manage the stuff in their lives. It can help you too! Especially, if you're a caregiver for your parent who needs to consider downsizing.
Without support, this book won't see the light of day…so, we were happy with the turn out. Then I admit those cupcakes did have an impact as did our two greeters who helped our guests feel welcome.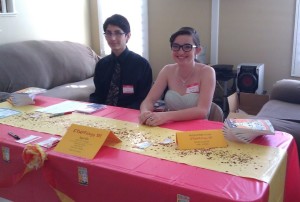 And without the special people who contributed their talents, it would not have been as stellar of an event. In alpha order:
Mary Barrass, caregiver, who I've written about before on The Caregiver's Voice , made delightful man buns (pretzel bread dough filled with homemade carnitas).
Fellow Toastmasters and my long-time friends, Miguel and Rosa Mayorga, who prepared their home including moving furniture, so we could have a nice spaces for our guests to enjoy. And Mama Maria (Rosa's mother) who prepared chili (salsa).
Susi Riddle, Eric's wife, who decorated and baked lemon cake and those delectable cupcakes with a secret ingredient that you'd never expect.
We'll sign copies for you if you order by clicking on links below.
Also, we just launched the new STUFFology101.com website, so visit us there if you need to get your mind out of the clutter.
We'll be appearing at Barnes and Noble's local authors event in Palmdale on Thursday, April 17th from 6:00 – 9:00pm. We look forward to seeing our local friends who missed our book launch.
STUFFology 101 – ONE copy SIGNED (U.S. Households Only) $14.95 + Shipping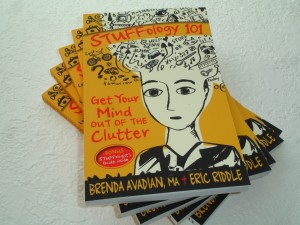 STUFFology 101 – Buy 2: 1 4 U + 1 2 Share (U.S. Households Only)
$25 for 2 copies – Free shipping
One for You and One to Share!