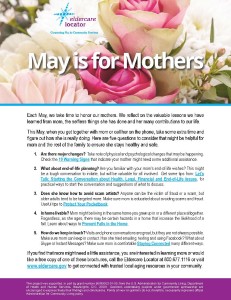 On Mother's Day this Sunday, do more for your mom than just send flowers, says the National Association of Areas on Aging in Washington, DC.
Call Mom
To really see how Mom is doing, visit her. If that's not possible call her.
Then learn as much as you can about the following:
Are there major changes?
What about end-of-life planning?
Does she know how to avoid scam artists?
Is her home livable?
How do we keep in touch?
Click on the the image to enlarge.
All educational resources are available for download at www.eldercare.gov or can be ordered for free from the Eldercare Locator  at 800.677.1116.