It used to be that speaking was a fear greater than death. Today, the fear of getting Alzheimer's is frequently cited among the aging population. While VOICES with Dementia aims to raise awareness of people with dementia who live productive and meaningful lives, the stigma remains. But not for long among those willing to take the initiative. Thanks to the Gerontological Society of America and the Alzheimer's Association, families worried about dementia or cognitive impairment, will get an insider's view of diagnosing cognitive impairment. Essentially, they will be able to look over their doctor's shoulder. Medical professionals, download these two resources, familiarize yourselves with both, and begin using them with patients as appropriate.
KAER Toolkit
The KAER Toolkit is a comprehensive document of Approaches and Tools for Primary Care Providers using the 4-Step Process – Kickstart, Assess, Evaluate, Refer 
This comprehensive 182-page resource contains detailed explanations, duplicatable assessments, and convenient clickable links. Click on the URL above to access and download the entire PDF document for your family and/or medical office.
Helpful information includes tips for diagnosing dementia (pages 93 and 94) with references to the two most recent Diagnostic and Statistical Manual of Mental Disorders (DSM) manuals. Did you know there's a push to move away from the word "dementia"? Also, be sure to visit page 96 for a one-page overview: Figure E-2. Components of a Diagnostic Evaluation for Dementia.
Dementia is a syndrome characterized by cognitive and functional impairments. Specific criteria for a diagnosis of dementia come from various sources. The Diagnostic and Statistical Manual of Mental Disorders, Fourth Edition, Text Revision (DSM-IV-TR) (American Psychiatric Association, 2000), which is still used by some and perhaps many PCPs and other health care professionals, requires deficits in two or more cognitive domains, including memory impairment and at least one of the following: aphasia, apraxia, agnosia, or disturbance in executive functioning. The deficits must cause significant impairment in social or occupational functioning. They must constitute a decline from the person's previous level of functioning, and they may not occur solely in the course of delirium.
The Diagnostic and Statistical Manual of Mental Disorders, Fifth Edition (DSM-5), published in 2013, does not use the term "dementia." Instead, DSM-5 uses the term "neurocognitive disorder." The criteria for neurocognitive disorder require impairment in one or more of six cognitive domains: complex attention, executive function, learning and memory, language, perceptual-motor, and social cognition…. (American Psychiatric Association, 2013).
Care Plan Toolkit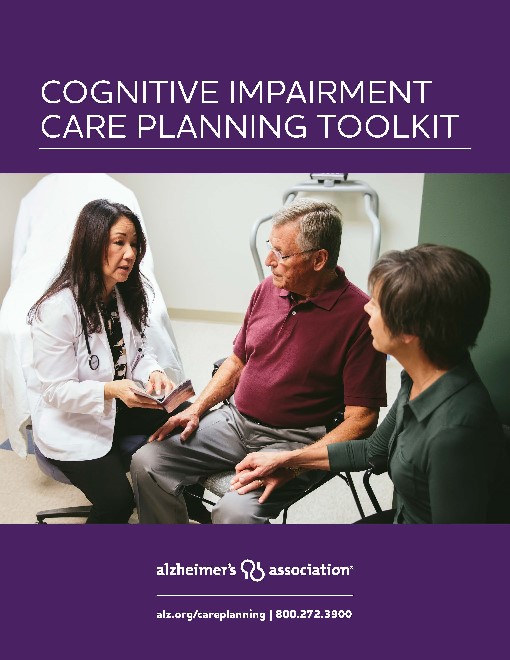 This care-planning toolkit was created by Alzheimer's Association to help physicians develop comprehensive care plans for eligible Medicare patients.
Doctors and their teams now have the tools to better equip families living with cognitive impairment due to MCI or dementia to navigate the oft-uncertain road ahead.
There are "Nine Service Elements" to this Medicare billing code, G0505. Click on the overview page at Cognitive Impairment Care Planning and scroll down to a convenient table summarizing these nine items. Below this table are resources for medical professionals to conduct the assessment and a link to download the toolkit.
Families, familiarize yourselves with these materials and walk into your doctor's office as an informed partner in care.
Download both PDF documents and make a point to revisiting them on a regular basis.