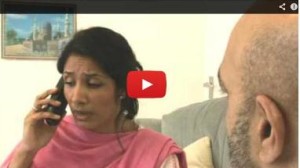 Decision-making abilities and rights of people with dementia
As a caregiver I often wondered how much leeway to give my father in decision-making. In hindsight, I gave him a lot. Even after I became his conservator, I still involved him in decisions. Plus, I'd have him sign his name on legal documents until one day he asked, "Why do you keep asking me to sign? Can't you sign …?" I continued giving him the choice until he stopped showing interest.
I believe giving loved ones the option of making decisions helps them thrive. They feel they have purpose (so long as we don't overwhelm them).
Although it takes longer to involve cognitively impaired loved ones in decisions, it's the right thing to do. We show a sign of respect while leaving the door wide open for communication and trust to enter.
If you're unsure, think about how you would want your caregiver to handle your affairs while you're challenged trying to make sense of the world. Instead of fearing what others will do, you'll feel more secure.
To see decision-making in action, watch this powerful 24-minute Decide for Yourself! video by Dr. Geraldine Boyle from the University of Bradford's Centre for Applied Social Research.
Decide for yourself  helps us gain a better understanding of how couples living with dementia make everyday decisions while drawing on support to facilitate them in making decisions. Three couples illustrate how we can comfort and empower our loved ones to make decisions while they are able.
An elder English couple, Margaret Wilson shows patience and reminisces with husband, John, as they prepare to meet friends at the cafe.
Muhammad Iqbal discusses overdue bills, walking to the mosque, and how to turn on the heat with daughter Samina.
William Eden hesitates when his wife, Mary, (with dementia) wants to make Shepherd's Pie.
Click on video below to watch.