Comfort food for Caregivers by Chef Tinky
In addition to other jobs, caregivers are often called upon to put food on the table for their companions and themselves. While caring for my late mother, I tried to involve her in food preparation as much as possible. She had always cooked and wanted to help—although Alzheimer's disease limited the tasks she could accomplish.
Here is a simple meal for caregivers and their charges. It epitomizes comfort food without being overly heavy. It also uses ingredients most of us have in the house, and it doesn't take a lot of prep work. The "sort of soufflé" doesn't puff up like a true soufflé, but it doesn't deflate like one either. It's easy to make and digest.
 Sort-of Soufflé (adapted from Fannie Farmer)

Ingredients:
1 cup scalded milk
1/4 cup soft bread crumbs (I usually just crumble up bread I have on hand)
1 cup small pieces of Cheddar cheese
1 tablespoon butter
1 teaspoon Creole seasoning or 1/2 teaspoon salt
3 egg yolks, beaten until thick
3 egg whites, beaten until stiff
Instructions:
Preheat the oven to 350 degrees. Butter a 1-1/2-quart casserole dish.
In a saucepan, combine the milk, breadcrumbs, cheese, butter, and seasoning.
Cook, stirring over low heat until the cheese and butter have melted and the mixture is relatively smooth. Remove from the heat.
Stir in the egg yolks; then gently fold in the stiff egg whites. Don't worry if some egg white remains visible.
Pour the mixture into the buttered casserole dish. Bake until much of the top turns a warm brown; this should take between 20 and 30 minutes.
Serves 2 to 4, depending on appetite.
Caregiver's mantra by Chef Tinky:

Relax.
Avoid stressful tasks.
And enjoy sharing.
The salad is flexible. If you don't have apples in the house, throw in a few slices of orange. If you don't have dried cranberries, use raisins. If you don't have spinach, use lettuce.
And if you don't feel like toasting your nuts, just use them raw!
The dressing recipe makes enough for another day. Just be sure to refrigerate the leftover dressing—and to bring it to room temperature and shake it well before you use it again.
Harvest Salad
Ingredients for the dressing:
3 tablespoons cider vinegar
1 tablespoon orange juice
3 tablespoons honey
2 tablespoons mayonnaise
1 teaspoon Dijon mustard
1/2 teaspoon salt
ground pepper to taste (I like to grind the pepper mill about 6 times)
3/4 cup extra-virgin olive oil
Ingredients for the salad:
1/2 pound uncooked spinach leaves
1/2 cup walnut or pecan halves (more if you like)
1 apple (your choice, cored and sliced but not peeled)
1/2 small red onion, chopped into rings or pieces
1/2 cup crumbled feta or blue cheese (more if you like)
3 strips cooked bacon, crumbled (optional)
1/4 cup dried cranberries (more if you like)
Instructions:
First, make the dressing. In a small saucepan over low heat, stir together the vinegar, the juice, and the honey until the honey dissolves. Remove the pan from the heat, and let the mixture cool for a few minutes; then use a whisk to stir in the mayonnaise, mustard, salt, and pepper. It will take a while for the ingredients to smooth out.
Finally, slowly whisk in the oil. Careful to pour the dressing into a jar with a tight-fitting lid that will hold at least 1-1/2 cups of liquid.
Wash the spinach thoroughly.
Place the nuts in a small frying pan, and toast them over low heat for a few minutes, stirring constantly, to release their oils. Take the pan off the heat.
Just before you are ready to eat, slice the apple. In a salad bowl, combine the spinach, onion slices, toasted nuts, apple slices, cheese, bacon (if using), and cranberries.
Shake the dressing, and pour a third to a half of it onto the salad. Toss the salad well but carefully.
Serves 6 to 8.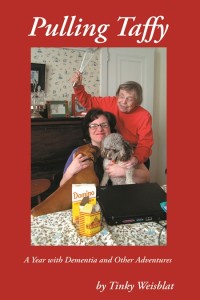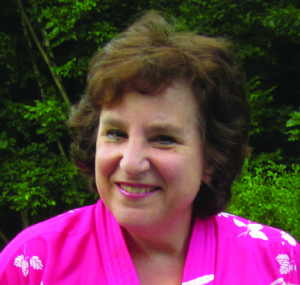 Tinky Weisblat is a writer and singer who spent several years as caregiver for her mother and wrote about the experience in Pulling Taffy. She loves to cook and to laugh, and she enjoys exploring the connections that link food, story, and song. To learn more about Tinky visit her website at TinkyCooks.com.