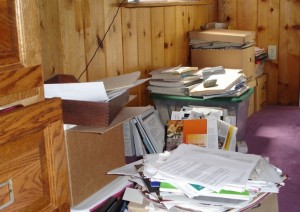 Longer days in the Northern Hemisphere mean the sun shines light on those cluttered areas we need to clear out of our lives.
But how do we take time to clear out the clutter when we have so many other important things to do during our 24 hours — like caregiving, working, eating, and occasionally winding down by reading or watching TV, and sleeping?
We start with these 3 steps:
First, admit that our clutter didn't show up one day.
Just like many of our mid-life weight gain didn't happen overnight … really. We added an ounce at a time until those ounces added up to pounds. Our clutter–in my case, paperwork–accumulated one sheet of paper, one magazine, and a book at a time. Over the years (actually, decades) the boxes and stacks of paperwork added up to overwhelming proportions.
Do we toss everything and start from scratch?
Do we hide everything behind the closed door of a spare bedroom?
Will doing either solve our problem?
Second, stem the tide of clutter.
Carving out a little time each day to get rid of one piece of paper or to read one article in a magazine or a chapter in a book before going to bed at night will move us in the right direction. TV time gives us a perfect opportunity to read a piece of mail during a lengthy commercial break. Also, stopping the flow of stuff coming into our homes will stem the tide.
Finally, gather together what's relevant to your life-interests now.
While writing a book, I'll focus on the information that relates to the book's topic. Having written nine books, this approach,  helps me ensure the ideas I'm writing about are different enough to be worth your time to read. Plus, they help me build a worthwhile resources section. After the book is released, I give these materials as gifts to attendees at my speaking events.
When we take time to make measurable progress to clear the clutter away from what's important to us now, we'll stop the wave of clutter from growing.


We'll feel lighter and more buoyant while enjoying the summer and holidays with family and friends.
We'll have less to dust, clean, and maintain.
We'll have fewer visual reminders tugging at us of stuff we still need to do.
There are unexpected benefits too.
For example, while clearing the clutter from my father's home, I found 28 30-year old $1,000 U.S. Savings bonds. That unexpected windfall helped pay for his health care after he was diagnosed with dementia.
Experience says an unexpected gift will be hiding somewhere amidst all your clutter.
Clear your clutter then let us know what unexpected gift you uncovered.

Brenda Avadian, MA
Co-author with Eric Riddle of the forthcoming book:
STUFFology 101: Get your mind out of the clutter