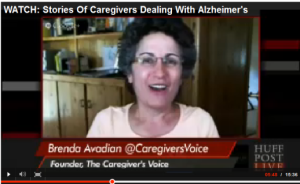 What a good fortune I had to share a message of connecting with others (for support) in order to move from surviving to Finding the JOY in Alzheimer's on HuffPost Live –  Stories of Caregivers Dealing With Alzheimer's.
I also shared the Diamond TIP for Caregivers, which goes beyond the Golden Rule. We need to go beyond caring for loved ones the way we want to be treated.
Brenda Avadian's DIAMOND TIP for CAREGIVERS

Learn as much as you can about your loved one's disease, so you may care for your loved one the way you would want to be cared for IF YOU were LIVING with the same disease.
This HuffPost Live segment featured Amy Newmark, Editor in Chief of the Chicken Soup for the Soul series focusing on their newest title: Living with Alzheimer's. Caregiver blogger, Nancy Wurtzell also shared her caregiving expriences.
Update: 12/19/2016: This HuffPost Live video, Stories of Caregivers Dealing With Alzheimer's [segmentId=537bd12bfe34445cb2000711] is no longer available.
Alena Hall of The Huffington Post wrote Alzheimer's Disease and the Power of Laughter covering more of the content that appeared in the segment.