When a loved one has difficulty swallowing due to dysphagia or other cause, caregivers need to create soft-flavorful foods that are easy to swallow. Diane Wolff, author of The Essential Puree, offers tips for caregivers to quickly puree meals.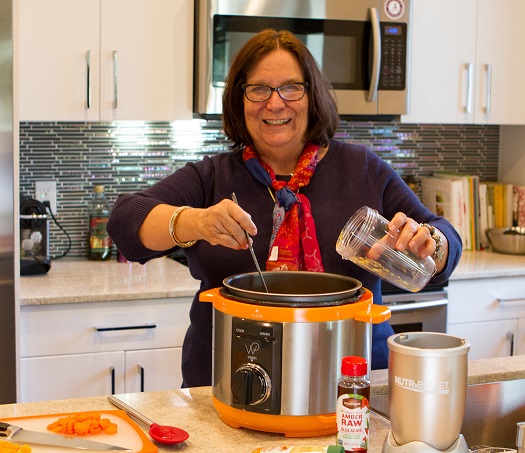 Begin by creating a puree station with the following four items. A mini-food processor (3-cup capacity) costs about $30. A flat-bottomed pitcher blender with multi-tiered blades runs about $45. Also, have a mesh strainer and a silicone spatula on hand. The spatula helps you push the puree through the strainer and more easily get the food out of the blender and mini-food processor. Each are widely available for about $5 or less.
With your puree station set up on the counter, you're ready to begin. First, I'll share six words of inspiration from my friend, Lisa Zullig, Director of Nutrition Services at New York-based, God's Love We Deliver:
Food is Medicine. Food is Love.
8 Tips for Caregivers Pureeing Palatable Meals for a Loved One with Dysphagia
Make a list of your loved one's five favorite meals.
Do this in advance to make sure you have all the ingredients while preparing a meal. Save time by shopping for several meals at once.
Be sure to check with your healthcare provider and get approval for the menu.
Shop for the best items in the freezer section.
Select meals that are good for making a puree or sauce, such as pea soup, stuffed cabbage, gluten-free chicken pot pie, meat loaf with mashed potato, eggplant parmesan, enchilada pie, and tortellini with pesto.
Choose clean-eating options with healthy fats, low-salt, low-sugar, and as few preservatives as possible.
Pick a variety of meals with great flavor to prevent boredom.
Be mindful of food restrictions or allergies when choosing.
Buy the family size to prepare several servings at once.
This labor-saving tip is the philosophy of The Essential Puree method of batch cooking: Cook once, eat four times. One meal can be eaten, another saved in the refrigerator for later in the week, and the rest frozen.
 Prepare meals when you have time.
Make two entrees or an entrée and a side dish. The side dishes may include veggies such as butternut squash puree, mashed sweet potatoes, creamed spinach, or even frozen soups.
Freeze meal-sized portions.
If you pureed four servings, freeze in glass dishes with covers. I like to puree and thicken before serving, but you may puree, thicken, and then freeze.
Before serving, thaw frozen portion.
Thaw in the refrigerator for two hours or for an hour on the counter. Warm in the microwave for three minutes or as needed on 50% power and serve. Use stock or broth if the dish needs extra liquid.
Options for thickening liquids.
Instant food thickeners help thicken foods for proper consistency to be swallowed safely. Brand names include: Simply Thick (gel), ThickenUp Clear, Thick & Easy Clear (powders). Use as directed by your healthcare provider for your loved one's level of the National Dysphagia Diet. These new xanthan gum-based thickeners do not have a starchy after-taste and are easily digestible. Gel is slightly more expensive per serving than powder. They're available at pharmacies and online.
Stock the freezer.
Use a sticky note and marker to label and date each item with the name of the dish, the date it was created, and the "Use by date" (30 days maximum).
Use a white board.
List the meals and quantity. Keep track of what you use so you know what you have on hand and what you need to prepare.
The secrets to running a puree kitchen.
Organization.
Break tasks into segments.
Don't get overwhelmed.
Do what works.
Take a moment for yourself.
Swirl Away!
Diane Wolff is the author of Essential Puree: The A to Z Guidebook, offering practical tips she wished she had after her mother was diagnosed. A Far Eastern scholar, journalist and blogger, she has traveled around the world in search of great stories and great food. Her website, the Essential Puree offers free tips, tricks, tools and techniques.
Additional Resources
Get the Free Download, Shake, Rattle and Roll. Create three nutritionally dense shakes, ready in a flash.
For background information on swallowing safely, read
The Caregiver's Voice Book Review of Swallow Safely
Click for information on how you can tell whether your loved one has a swallowing difficulty.