Caregivers are reminded to take time off. Caregiver respites make all the difference in the world – from an afternoon off to an extended weekend or even a week or more.
Below is an overview of some of the things you might consider doing during a caregiver respite. Although I still work long days 6-7 days a week just like I did while a caregiver, I needed a break. I worked even harder to get everything in place before taking nine days off to visit the Midwest.
It takes time to plan and that's why we don't take enough breaks. But the change of pace is worth it. So are the memories we created with family, Godchildren, caregivers, and friends.
Hubby's and my three-state excursion began with a night flight out of Los Angeles to Minneapolis. A melatonin, nap at the airport, and then on the plane, helped keep me going the next day. Adrenaline helped, too.  Hover over images to read descriptions.
Visit with Family Caregiver and Caregiving Professional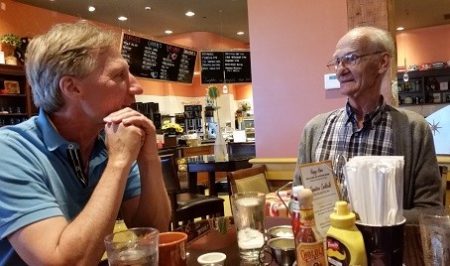 We rented a car at the airport and met caregiver Sheri Zschocher and her hubby, Bob for breakfast. Although, I met Sheri a few years earlier, this is the first time I met Bob, who lives with Alzheimer's. He and my hubby, David, talked until "Al" (as Sheri refers to Bob's Alzheimer's) made an appearance. A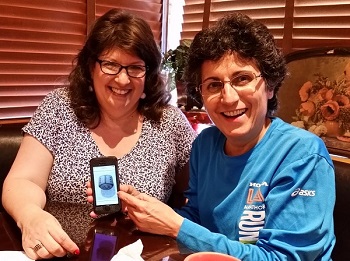 s "Al" made Bob fidgety, our visit drew to a close but not before Sheri showed me a picture of Bob's surprising one-day wood carving of a ladybug. (The task was supposed to keep him occupied for a week!)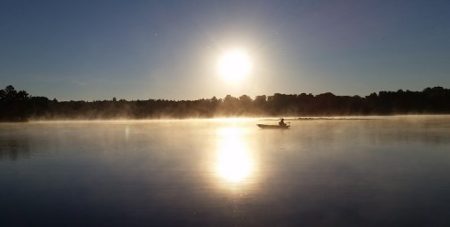 We drove an hour and a half east and took a break at River Bend Winery in Chippewa Falls. After tasting a handful of wines, we bought bottles to give as gifts before driving another two hours to Linda's cabin. Linda Schmidt is the Director of Marketing/Admissions at Bell Tower Residence and a former client. Working in the field of caregiving, it's easy to build relationships that move beyond professional relationships. In the north woods of Wisconsin next to a picturesque lake, I met her husband who happens to be a jaw-dropping image of former President Clinton.
Visit with Family before it's Too Late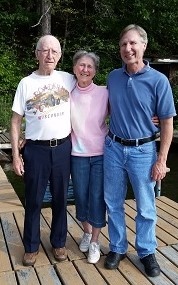 Years ago, families lived close together. Today, we're spread so far apart we often don't see one another. Sometimes, it's too late.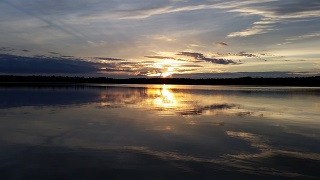 How fortunate that David's aunt and uncle were in town so we could visit them. Close to the upper peninsula of Michigan, we enjoyed a beautiful sunset on their lake. We shared memories and laughed while looking at old family photos after dinner and then headed south the following morning.
After a five-hour drive, we checked into the Country Inn in Milwaukee while visiting David's brother, sister-in-law, our friends and fast-maturing niece, nephews, and Godchildren.
Girl's Time Out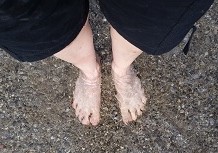 While hubby took his niece out for breakfast – a tradition they've had for years – I drove north to Cedarburg to spend "girl-time" with my long-time college friend and mother of our Godsons. I shot two Facebook Live videos of Marva making healthy smoothies before she poured them in canning jars to take along after our hike at the bluffs below Concordia University. We enjoyed some barefoot sand and water therapy along the shoreline before climbing the steps to savor our healthy and tasty smoothies.
Visit Our Growing Godsons
Years ago, Marva wondered how the boys would turn out given her choices to home-school, make meals from scratch, and more. I told her the years would unveil the truth. The "boys" are now men in their 20s and 30s. I am proud of them. Four of the five, were able to join us while one is in Colorado working on his PhD in chemistry. We even brought our niece and nephews. After all the FUN we had, I regret I didn't take a single picture. I can't believe it!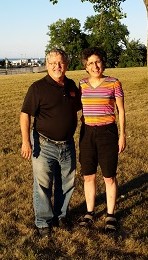 Pizza with a Long-time Friend
Special people come into your life and change it for the better. Jim and I met while he was a student in one of my classes at the University of Wisconsin – Milwaukee. Since 1980, we've kept in touch. I credit Jim with changing my view of the world. This time, the teacher learns.
Family FUN with Cousins in Chicago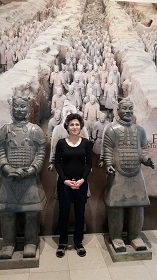 With a day and a half left of our vacation, we drove down to Chicago for FUN family time with my cousins. David and I visited the Terra Cotta Warrior Exhibit at the Field Museum, followed by dinner with my cousins and an overnight stay in cousin Stephanie's lakefront condo.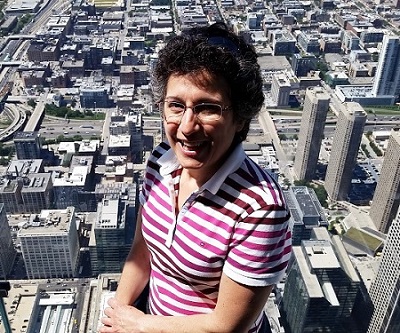 The following morning, we walked to the Willis (formerly Sears) Tower to visit the 103rd floor Sky deck glass ledge.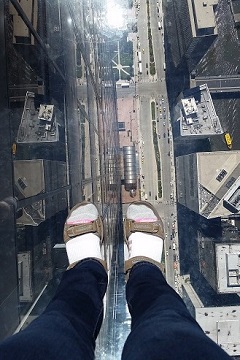 Before driving in heavy traffic to O'Hare for the flight home, I enjoyed a delicious Chicago deep dish pizza for my birthday. YUM!
Take a step back from the daily routine. There's never enough time to do everything or meet with everyone. Vacations are about a change of pace, enjoying time with others, and a little adventure. Recreate and replenish to return home refreshed and restored.