How Busy Caregivers Manage Time Spent Preparing Pureed Meals in a Dysphagia Kitchen
Sponsored Article by Diane Wolff
At Essential Puree, we discovered a wide range of needs for the variety of caregivers caring for loved ones diagnosed with a swallowing disorder.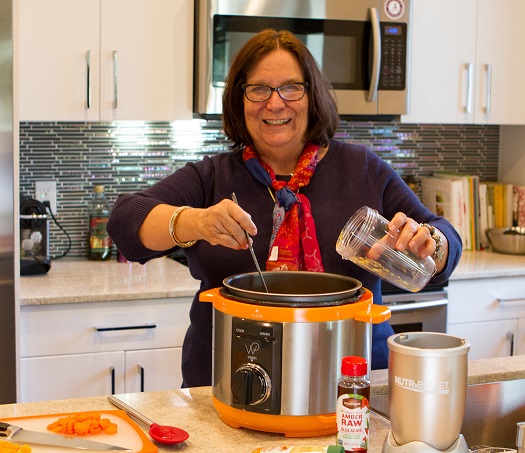 Responding to our readers' requests, we have designed systems for the puree kitchen for every caregiver's need.
Meals Ready in One Hour
For the food enthusiasts of the world, we have Essential Puree: The A to Z Guidebook.
Three years in the making, this is the original volume in the series and the one I created for my mother, after she was diagnosed with a swallowing disorder.
The dishes are created from scratch, from my family recipes handed down through the generations. Most are created in an hour with a few requiring up to 90 minutes.
They are better than what you can buy at the market. You know what's in them. You can batch cook them, so you get multiple servings from one cooking session.
These meals follow principles of nutritional healing and are lower cost than commercially prepared meals.
You'll have a guide to stocking the pantry, fridge, and freezer with instructions for labeling and storing. You'll also learn the right tools for puree and the best products for instant thickening.  Finally, information is included on the National Dysphagia Diet (NDD).
Visit the Essential Puree Blog to try a few recipes. You will find recipes for American comfort foods, soul food, Cuban specialties, the Jewish kitchen, and ethnic dishes from many traditions.
Meals Ready in 30 Minutes
The Quickies for Caregivers Series is for caregivers who do not cook. Whatever your situation is – you don't know how, don't want to, or don't have time to cook. If cooking is not part of your caregiving duties, these recipes made of quality go-to ingredients can be made by friends and family.
They use of the classic Essential Puree system for puree and thickening, storage and labeling, and tracking.
The principles of nutritional healing and clean eating apply here, but the dishes are ready in 30 minutes in this budget-priced eBook series.
The process can be fun, too. Family and friends can have a classic tailgating party with The Game Day Menu giving a person with dysphagia or swallowing disorder the opportunity to participate.
The biggest complaint by those on a pureed diet is boring tasteless food. Learn how to puree a pizza that is really tasty and safe to swallow. Using the electric pressure cooker, make mild BBQ ribs that puree with ease and are safe for swallowing and end food boredom.
For Memorial Day, we will have The Purees of Summer. Loved ones can join the cookout, with iconic classic recipes leading into the summer season. There's no need for a loved one with dysphagia to feel isolated from family and friends.
Readers may access our Free Downloads: Instant Thickeners, the Master Sauce Guide and Kitchen Tools.
Meals Ready in 15 Minutes
This eBook is inspired by an emergency request from a friend juggling parenthood, a job, and caring for aging parents. Like other caregivers in the sandwich generation, life is more challenging.
This groundbreaking, The Speedy Series, features dishes that are ready in fifteen minutes. The first volume in the series is Betsy's Mom Was Diagnosed and Betsy Has a Full-time Job. 
The caregiver learns which ten dishes are a loved one's favorite and then stocks the freezer with nutritious and flavorful prepared entrees, sides, and small meals.
The rest of the system is classic Essential Puree: thickening, storage and labeling, as well as keeping track of what is on hand. This series is conveniently budget-priced.
We invite you to explore our library of print books and eBooks that can be displayed on any mobile device. Try our free recipes and downloads, and of course,
Swirl Away! 
Books and eBooks are available on the Essential Puree website.
Get the Free Download, Shake, Rattle and Roll.
Create three nutritionally dense shakes, ready in a flash.
Diane Wolff is a widely-published author and journalist who became a family caregiver after her mother was diagnosed with dementia. As a journalist, she wrote the volume that she wished she had when her mother was diagnosed with dysphagia (swallowing disorder). She teaches at hospitals, giving lecture demos for patients and caregivers and also gives tastings at stroke centers and at the New York charity, God's Love We Deliver.