The Caregiver's Voice Newsletter – Are You Gettin' It?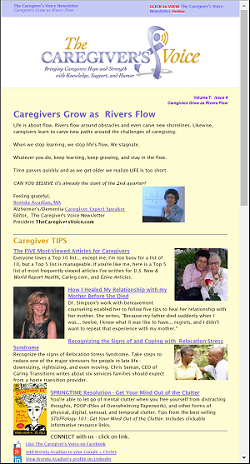 Sometimes, all the information we receive is just too much.
When you're getting blasted by a firehose, it's a good idea to step aside to avoid drowning and look for a garden hose.
The Caregiver's Voice Newsletter includes articles covering an assortment of categories including Caregiver Tips, Caregiver Videos, Musings, Book & Product Reviews, Caregiver Inspiration & Humor and even the new(er) Voices with Dementia.
It's attractively featured with pictures and brief descriptions so you can choose where you want to spend your time.
Click on the two screenshot images to look at our two recent issues.
For 7 years, readers have enjoyed The Caregiver's Voice free monthly newsletter. If you're missing out, there's no risk in trying it out. 
Are you on Our Subscription List?
Subscribing is simple and easy.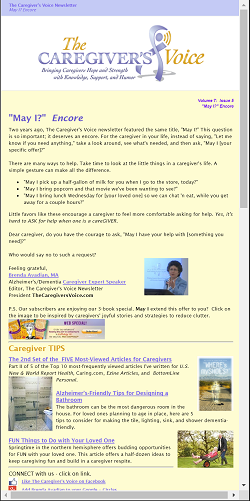 Simply click on SIGN UP for The Caregiver's Voice Newsletter.
All we need is your name and email address. After you receive the confirmation email and confirm that you signed up (subscription is a two-step process), you'll receive issues on the first of every month.
If you sign up before May 30, you'll be able to read and share a funny article I wrote for US News Health on "Deciding to Become a Caregiver for Someone You Love." I don't recommend this approach, but it surely speaks to the diverse paths we take to become caregivers.
Don't let too much information prevent you from getting any! Sign up now.
The next issue arrives in mailboxes around the world on June 1 & 2 at 11amET/8amPT in the U.S., 4pm in London, and far Far away (from California), anywhere from just before midnight to the wee hours of the following morning in Australia and China.