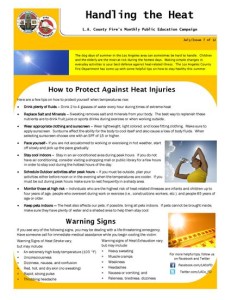 If you've been feeling the heat, it's time to take steps to prevent a life-threatening emergency.
Heat-related symptoms can creep up on us. Before it's too late, be aware of the warning signs of heat stroke.
The Los Angeles County Fire Department, prepared a one-page flier, Handling the Heat.
Click on the image for a full-size printable PDF document that includes:
Warning Signs of a life-threatening emergency related to heat
8 Tips to Protect yourself against heat injuries
Being forewarned means being prepared with plenty of water, sunscreen, breaks to prevent heat stroke and heat exhaustion.