Seek competent professional advice.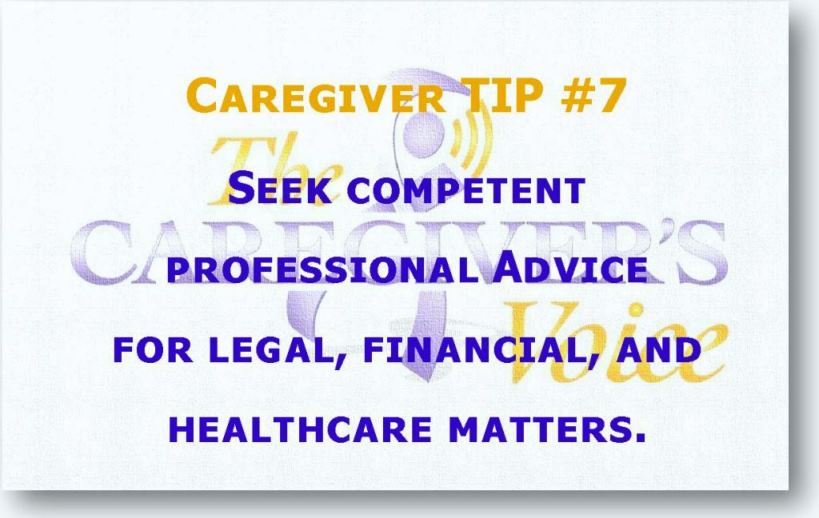 There are times along your caregiving journey that you'll need legal, financial, and even healthcare advice.
What are your responsibilities as your care recipient's fiduciary?
Do you have the authority to make medical decisions on behalf of your loved one?
What rights do you have with regard to your loved one's financial matters?
Should you sell your 85-year old parent's home in order to buy that annuity?
Is paying a non-refundable deposit to reserve a spot for your parent in that new continuing care community a good idea?
How is power of attorney different from guardianship or conservatorship?
Caregiver, regarding legal, financial, and healthcare matters, be sure to seek competent professional advice.
After having your questions answered, don't sign anything until you've had time to reflect and talk with others.
Signing the agreement and paying a nonrefundable deposit to reserve a space for your parent in that new upscale continuing care community, may not be in your family's best interests. Discuss the agreement with a trusted advisor, for example, a geriatric care manager. You may be surprised to learn that the community is not licensed to offer skilled nursing care. This means that when your parent needs more hands-on care, s/he will have to move from a familiar place with friends to a new place.
In our quick-fix-sign-now society, you'll be amazed by how many other things you may not have considered, after you step away from the situation.
If something is truly meant to be, it doesn't have to be done now. It can wait at least 24 hours for you to consider — assuming it's not a life-threatening emergency!
That special annuity to help "pay for expensive medical care" for your 85-year old loved one's rising healthcare costs expires at midnight tonight. You must sign up now. You'll need to sell the family home in order to transfer assets to buy that annuity. Upon discussing it with an elder law attorney, you learn that you're paying a couple thousand in commissions to the person selling the annuity — not a wise choice for your family.
Walk away from any time-sensitve deal. Take time to think more clearly from a distance.
Talk with someone you trust about the advice you've received.
Only after your questions are answered and you've had time to think, should you sign anything.
A moment of impatience to sign now (What could go wrong?) could result in a lifetime of worry. (Oh, boy, I didn't expect that!)