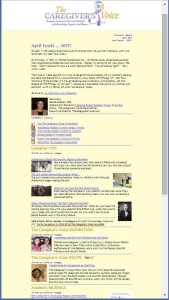 Are you receiving our monthly newsletter?
The Caregiver's Voice Newsletter brings you an overview of the month's articles with easy-to-click-on titles and images.
What's even better is it's free!
The information? Priceless.
Thank you for putting Don and Carol's story online. It alerted us to the scam 1-1/2 hours before we were going to transfer $2400. We too are educated worldly travelers. I can't believe the scammers almost got us. A big "thank you" to Don and Carol. Our story is almost identical.              
— Reader from Virginia Beach, VA
Each issue offers a variety from
Caregiver Tips,
Caregiver Inspiration and Humor,
Musings,
to Reviews.
I just admitted a woman to our special care unit. The daughter had been taking care of her at home but it was becoming too hard, working at home for an insurance company, and being a 24-hour caregiver. As we were filling out the admission paperwork, the daughter saw one of your books on my desk. Months earlier, she was challenged with her mom leaving the house during the night. She said, "That book is where I got the idea to hide my mother's shoes." She is very grateful for that. THANK YOU 🙂               
 — Heather B.
This is the fifth year; The Caregiver's Voice Newsletter has been arriving to in boxes on the first of every month, most often on a weekday, sometimes on the weekend, and even on holidays.
Click to view our most recent issue: The Caregiver's Voice Newsletter – April Fools … NOT! – April 2014
The next issue of The Caregiver's Voice Newsletter
will be arriving to in boxes worldwide, on May 1.
Here are two additional comments from readers of The Caregiver's Voice Newsletter:
I teach psychiatric nursing. I do a project with my students related to stigma of mental illness. One of my students discovered your newsletter while researching stigma related to dementia. Your newsletter is warm in tone, clear, supportive and acknowledges that the caregiver can become 'lost' as the patient is everyone's focus. Thank you for all you do.                
— Carol W.
And, in response to my repeated requests to please send in your comments. Near Valentine's Day, I wrote in The Caregiver's Voice Newsletter – Caregiver Self-LOVE: I Matter – February 2014 issue, "It's one way you let us know that you LOVE us!  ;-)" one caregiver wrote this heartwarming line:
Of course, you know we love you!
— Caregiver in Virginia