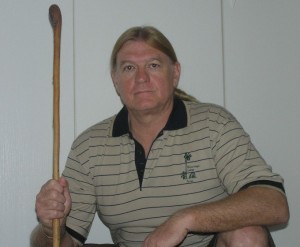 This eye-opening story from Berrie Holtzhausen of Dementia Namibia, (Namibia is a country in the southwestern region of Africa) had me reflecting on what it means to be a  more "advanced nation" dealing with dementia.
Berrie recounts stopping in a village to speak to the "headman" of the Ovahimba tribe. After presenting him with a gift, Berrie offers to help his sister who shows signs of dementia.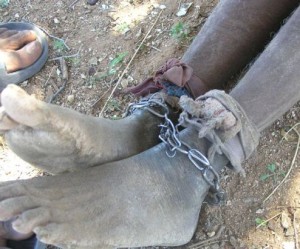 The "headman" tells him of the "trouble" they're having with his sister and that "the church" sent people to pray for her and unchain her but soon his sister wandered away. When they found her two days later, she had nearly died. To prevent her from wandering, they chain her.
While reading Berrie's story, my mind returns to the 1980s movie Amadeus, the story about Mozart as told by Salieri whose jealousy of his rival's talent drove him to the insane asylum. Those dreadful asylum scenes still remain in my mind.
I wonder how many people were committed because we didn't understand Alzheimer's disease, Parkinson's, Lewy body dementia, and other dementias.
After giving my father who lived with Alzheimer's the best care I knew how, I realize that only a handful of decades ago we didn't know enough to better care for loved ones who hallucinated, couldn't express themselves clearly, and acted out inappropriately. I've heard caregivers and professionals recount their own stories of the mother who was tied up in a chair in the attic with the shades drawn or the "crazy uncle" locked in a backroom of the basement so no one would hear him scream.
This lack of knowing is all the more reason for Global Awareness for Dementia.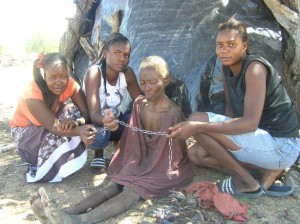 The team from Dementia Namibia trains caregivers from different tribes so they can better identify and care for those living with dementia.
By spring of this year, Berrie's team cut the chains that bound Ndjinaa for 20 years, helped her get cleaned up, and now Ndjinaa serves as a friendly smiling grandma to the children of one Himba village.
Read more about this moving story at Alzheimer's Disease International's June 2013 newsletter (on pages 13 and 14), which will help anyone dealing with guilt to gain the confidence that we're doing the best we can.