Aging in Place and Reconsidering Bathing
A major challenge for caregivers, especially those caring for loved ones with dementia is bathing. Difficulties with bathing and toileting often force families to make the difficult decision to place a loved one. Yet, most of us, including our loved ones, would prefer to age in place.
We mention the phrase "aging in place," frequently; yet, how many of us have taken steps to prepare our homes? Using the bathroom becomes a major obstacle.
Enter Rachel Quaill of American Tubs, a manufacturer of walk-in tubs. Rachel reached out to advertise on The Caregiver's Voice. I suggested that we work together to build awareness, instead. The Caregiver's Voice gratefully acknowledges and appreciates their sponsorship and support.
A New Bathing Experience
You and I have seen the ads for walk-in tubs in magazines. If you're like me, you've wondered, would one of these tubs work for me? Or if you're caring for a loved one in your home, would a walk-in tub make it easier for your loved one who resists bathing?
After being diagnosed with dementia, my father lived with us. My husband and I found it challenging getting him to bathe. When my father agreed to bathe, we worried he might trip, stepping in and out of the tub. While in the shower, he'd sometimes forget what to do.
When we moved into a fixer-upper home, we made some aging-in-place changes such as installing lever door handles and easy-to-open windows.  I've learned a lot working with caregiving families. We even had double railings installed to make it easier to go up and down the stairs. We still need to remodel two bathrooms and the kitchen.
While I enjoyed the outdoor spa at our previous home, I've never used the big bathtub with jets in our current home. I like the idea of a smaller cozier tub filled with water to enjoy a more personal spa experience. And when I get old(er), I'd like to think I'll enjoy multiple spa experiences in my own home.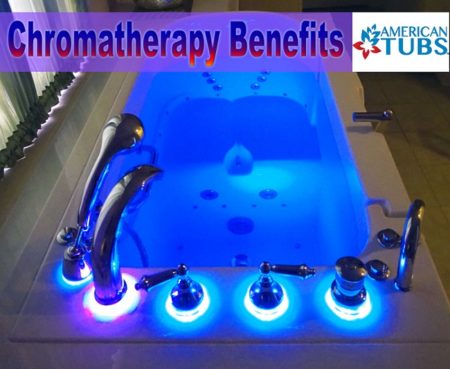 American Tubs prides itself on each design detail to ensure a safe and comfortable tub. Depending on the features you choose, you may find yourself relaxing among air bubbles or relieving sore spots with a strategically placed Jet system. Hydrotherapy eases joint and muscle pain while improving blood flow. Chromotherapy (use of varying colors) has been shown to have beneficial therapeutic properties as well.
Helping a confused loved one with dementia bathe in a relaxing setting is ideal and may delay the need for placement. A walk-in tub is easier to get in and out of. The cozy interior will help caregivers aid loved ones with bathing.
Enjoy a comfortable bathing experience by wrapping a warm towel around your or your loved one's shoulders until the tub fills with water. Remove the towel until you're ready to drain the tub. American Tubs guarantees your tub will drain in less than two minutes with their patented the HurryDrain© Fast Drain and overflow kit.
Additional Information on the American Tubs website
☆ Walk-in tub types
☆ Who needs a walk-in tub?
☆ Benefits of walk-in tub
Call to learn more about walk-in tubs

American Tubs are made in the USA with the safety and quality of each tub guaranteed. Located in City of Industry, California, they ship custom-made tubs throughout the US.
Click for more information about walk-in tub features and benefits. Then take one step and call 877-818-7699. Discuss options and pricing while the information is fresh in your mind. Schedule a visit to a local office to try one! This way, you'll learn something new and know what to expect when you decide it's time for a bathroom makeover.