Caregiver Tips for Getting through the Holidays
Guest article by Carole Mulliken, MEd
I have dementia. Sumptuous holiday dinners with a huge family are traditions of the past. I confess I cannot handle the confusion and stress.
This year, you can be proactive about your holidays. If you issue the invitations first, then you control the where, how, and when they occur.
Be strategic. Plan meals in restaurants away from your home. You know best what conditions your companion with dementia can handle and enjoy. Below are some suggestions based on my experience with dementia.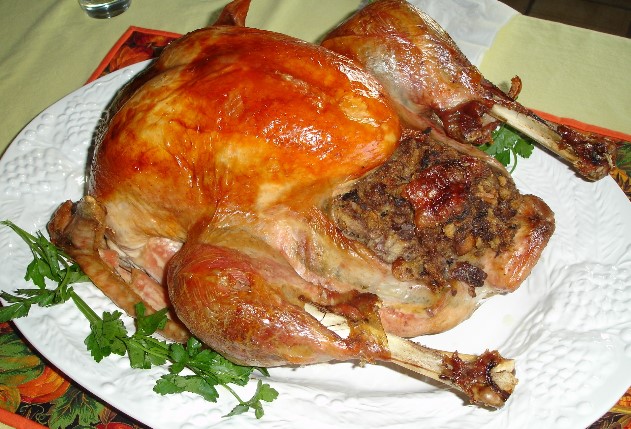 Tips for Helping People with Dementia Get through the Holidays
Avoid large gatherings. Invite another couple to a restaurant, instead.
More than three additional people at a meal is overwhelming. I cannot track more than one conversation at a time. People coming and going is confusing for me. My favorite meals are with another couple at a restaurant, where none of us will be responsible for shopping, cooking, or cleaning up.
Advise guests that their best present is their presence.
Gifts are not needed nor wanted. Keep your time together, simple and relaxing.
When you arrive, let the host/ess know you may need extra help and will tip accordingly.
Choose quiet restaurants at off-hours to minimize noise and commotion.
Restaurants with table cloths, carpeting, and noise absorbing walls create a proper ambiance.
Ask to be seated in the quietest area away from kitchen doors and bussing stations.
The clatter of dishes and scraping of utensils affect some people with dementia who have extreme sensitivity to noise (hyperacusis). This makes normal noises acutely painful. Earplugs may help, although this will affect conversation. Request piped-in music be lowered or turned off in your area, if possible. The quiet will enhance the meal for you as well as your companions.
Make reservations (if needed) early enough in the day.
You want to avoid sundowning or your companion's cognitive exhaustion.
Bring clothing protectors.
Stylish, sophisticated ones are available.
Be inclusive: buy inexpensive packs so everyone can have one!
Reduce food choices if ordering for your companion. 
Discussing several choices of entrées may be too much to comprehend while ordering. If your companion is in early stage, large pictures on the menu are helpful. Later, it may be better not to show the menu at all.  Knowing your companion's preferences, you might ask, "Would you like ham or beef?  "Last time we ate here, you liked…" "I think you'll love…"
Menu descriptions like 'piping hot,' 'our delectable,' 'prepared in a creamy white sauce,' and 'served with' are clutter for a person having difficulty reading and concentrating.
Discretely inform wait staff of special needs.
These include substituting finger foods, serving soups in deep mugs rather than shallow bowls, and the need for special access for wheelchairs.
Avoid your companion's embarrassment.
Ask the server to cut up meats before bringing the plate to the table. Order finger foods. For a person in a more advanced stage of dementia, just perceiving food among many dishes on the table can be a problem (simultanagnosia). Request the meat be served on one plate, vegetables on another, and salad on another.
Ask staff to keep your companion's area as free of distracting table items as possible. Clear empty plates or drinks menus as soon as possible.
Closely monitor your companion's well-being.
Direct the conversation his way now and then. Ask whether he would like to stay longer or if he's ready to head home. Lengthy stays invite embarrassing outbursts, so plan to arrive in your own car.
Ask ahead of time for separate checks, unless your companions offer to treat you.
Finally, encourage your favorite restaurant to offer "Purple Table" reservations as does this one in Acton, Massachusetts.
Eat, Drink, and Be Merry, STRATEGICALLY.
If you control your holiday events, you and your companion may enjoy them more. It will be much easier to decline larger festivities that you don't feel your loved one will be able to attend.
Click to read a related article by Dr. Philip D. Sloane, Reducing Holiday Stress with Memory Impaired Loved Ones.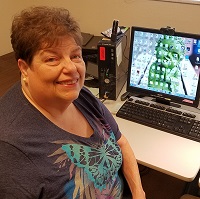 Carole Mulliken is a retired educator, writer, message board moderator for the Dementia Advocacy and Support Network International (DASNI), and in 2018, will be serving on the board of Dementia Alliance International (DAI). She recently "came out" as a person with dementia.
Carole says: People with dementia – like me – work to improve the quality of life for others with dementia and their families. A 501(c)(3) nonprofit, Dementia Alliance International (DAI), provides international advocacy and weekly internet support groups. We are volunteers dependent upon the generosity of people like you. Please help DAI sustain its activities by clicking on: https://www.dementiaallianceinternational.org/donate/