The Caregiver's Voice will be launching a new column called VOICES with Dementia.
During the latter part of the last century (mid-to late nineties), few voices of people with dementia or Alzheimer's were heard. Slowly, we're moving forward into the 21st century and more people are speaking and we're listening.
For a long time, we've heard, "Meet one person with Alzheimer's (dementia), you've met one person," meaning that one person does not represent all people with Alzheimer's or other causes of dementia.
Some voices are heard and others are mere whispers. We, who care for people with dementia, can learn from all voices if we take time to listen and ask questions. If we are to be better caregivers for people with dementia, we need to listen and apply what we learn.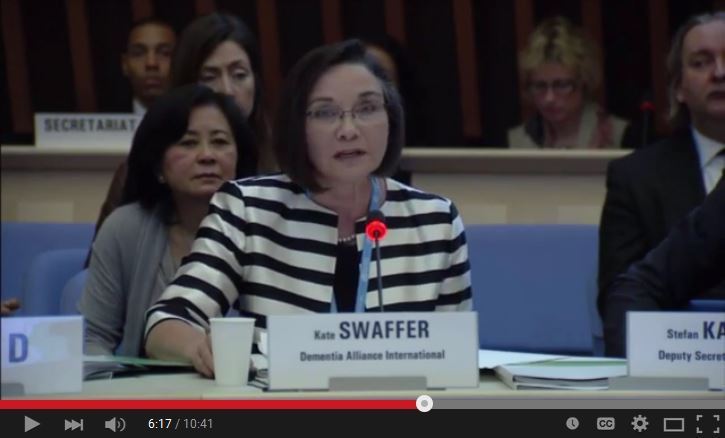 One of the leading voices internationally is Kate Swaffer's. "Having been a carer for three people with dementia, I was diagnosed with Younger Onset Dementia at age 49, she says during a recent Skype call."
As co-founder of Dementia Alliance International, Kate spoke earlier this year at the World Health Organization's (WHO) first Ministerial Conference on Global Action Against Dementia.
Forty-seven million people live with dementia worldwide and each person lives a unique life. Most live with Alzheimer's, others with vascular, Lewy body, Parkinson's-caused dementia, plus an estimated nearly 100 rarer causes.
What better way to launch our VOICES with Dementia column than with Kate Swaffer's testimony at WHO in Geneva.
Highlights of her 11-minute testimony include:
Dementia is at the bottom of the funding pool and money spent now for research, better care, and rehabilitation will save money later on.
Even though there is no cure, we can help people live better with dementia.
It is important to include people with dementia as equal partners in conversations about them.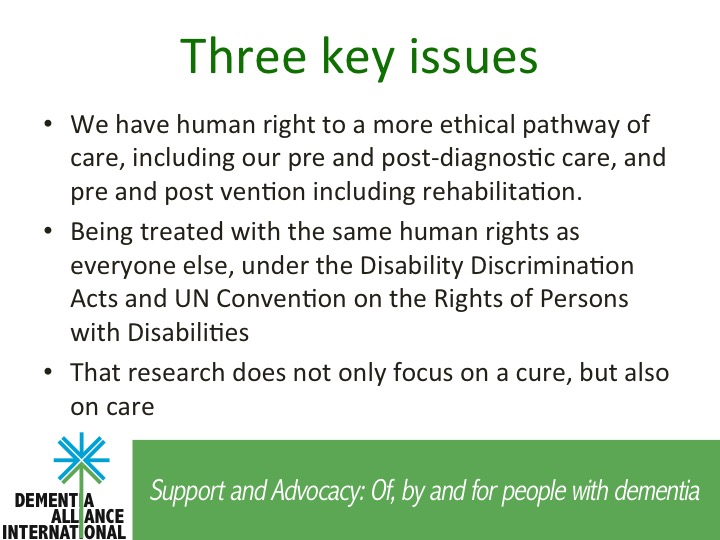 UPDATE 9/22/2015: Unfortunately, Kate Swaffer's testimony during the WHO Ministerial Conference on Dementia on 17 March 2015 is no longer available. Please find the text of her testimony and a copy of her slides at the two links below.
If you're unable to access the video by clicking below, then watch it on YouTube by clicking this link: https://www.youtube.com/watch?v=HZL8i6rYNCQ
Kate's five-page testimony is available here in a printable format: WHO Ministerial Conference on Dementia_17 March 2015_Kate Swaffer
A copy of her slides is available here: http://www.dementiaallianceinternational.org/wp-content/uploads/2015/03/WHO_17-March-2015_ppt.pdf