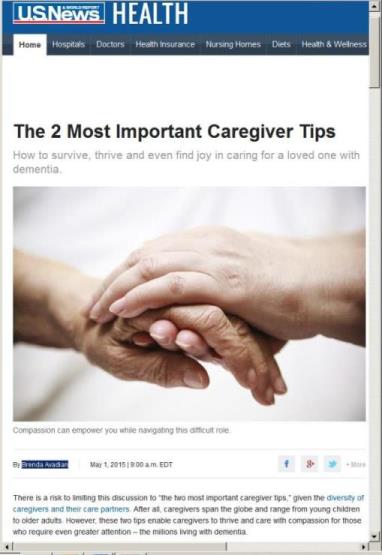 Earlier this month I began writing for U.S. News & World Report. My first article was The Two Most Important Caregiver Tips.
Caregivers for people with dementia are subject to growing overwhelmed, stressed, and isolated. Left unchecked, these feelings often spiral into depression.
That's why it's important to have tools to feel more in control of your life. These two tips are a strong start to helping you thrive as a caregiver.
Diamonds are a Caregiver's Best Friend
When a caregiver stops to examine the facets of care, the burden of caregiving feels lighter, while applying Avadian's Diamond Tip for Caregivers.
This tip is important became the Golden Rule is not enough.
After sheer exhaustion and bouts of frustration, while caring for my father who lived with Alzheimer's, I realized that the Golden Rule is not enough. Once I discovered and applied the Diamond Tip for Caregivers, I had more energy and compassion, less guilt, and fewer regrets.
Click below to watch Diamond Tip for Caregivers.
If you cannot click on the box above to view, click on Diamond Tip for Caregivers Video to watch on YouTube.