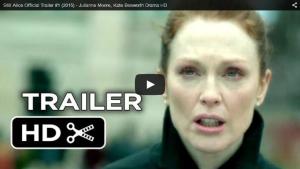 Still Alice is a movie about Alice Howland, a happily married mother of three and a renowned Harvard linguistics professor, who is diagnosed with early onset Alzheimer's.
Based on the book by the same name, Still Alice is the first of three titles by Lisa Genova who has a Harvard doctorate degree in the neurosciences.
When Alice grows forgetful, she dismisses it initially. When she gets lost in her own neighborhood, she realizes something is very wrong. Only 50 years old, Alice finds herself living moment to moment with Alzheimer's disease.
We're overdue for a finely crafted film of a leading character with Alzheimer's disease.
By turning well-crafted stories into feature-length films,
we continue to raise awareness of Alzheimer's among mainstream audiences,
while helping reduce the stigma of jokes in poor taste about forgetting.
I wonder why it is that despite the men living with Alzheimer's today, whose voices I hear and words I read the most, like Norman Mc Namara in Torbay (UK), Michael Ellenbogen in Pennsylvania (USA) and Dr. Richard Taylor in Texas (USA), the leading films about dementia tend to be about women–powerful women.
Previous films featuring leading characters who live with Alzheimer's include:
The Iron Lady, a biographical film starring Meryl Streep, based on the life of Margaret Thatcher the Prime Minister of England
The Notebook, based on Nicholas Sparks' best-selling novel featuring James Garner the loving husband of Allie who lives in a nursing home.
Iris, based on the life of English Novelist, Iris Murdoch.
What about a well-crafted story about an ordinary guy (if I say so myself!), an immigrant who works hard in his adopted country to secure a piece of the American Dream, lives a long life, only to live his last years with Alzheimer's disease? Why do these featured movies have to be about prominent people?
It's always a welcome opportunity to view well-crafted films that increase understanding,
so that we may reduce the stigma of Alzheimer's and related dementias
as we have with HIV/AIDS and Cancer.
An interesting tidbit about the author of Still Alice. In a Time Magazine article in early 2009, Lisa Genova, then 38 years old, was a health-care industry consultant who wanted to be an author but couldn't get her book published despite having a Harvard PhD. So, in 2007, she paid iUniverse $450 to help her self-publish Still Alice.
Click to view the Still Alice Official Movie Trailer below.

And if your browser (or security set-up) doesn't enable the play button, click on this link to view Still Alice on YouTube
For more information about this film and her book, visit Lisa's website.