People with dementia (PWD) are sharing their experiences with one another and anyone else who is willing to listen.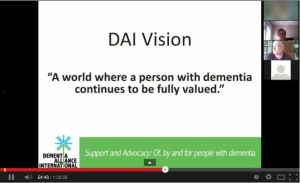 In years past, PWDs would quietly retreat. No more. A new age of activists are helping raise awareness among those diagnosed with dementia and those of us who are willing to learn.
And who better to learn from than one who walks with dementia. We can guess as much as we want, but those who live with dementia, are better able to help us understand and grow with compassion.
It is with pleasure that The Caregiver's Voice has learned of a series of Master classes for people with dementia, taught by people with dementia. The classes focus on learning to live well with dementia and are offered every Wednesday during September via video conferencing. They are free, although donations are gratefully accepted. (Replays on YouTube are available for those who cannot attend these live sessions.)
The 90-minute Master Class below was created by members of the Dementia Alliance International and is also available on YouTube.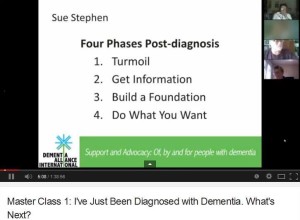 After receiving a diagnosis of dementia (and recovering from the shock), one of the questions most people ask is "What next?"
Often the answer is to "quit your job, make out your will, and go home and relax." Dementia Alliance International calls this "prescribed disengagement" – disengage from the world around you, prepare for the worst, and go home and wait for the inevitable. Except that the "inevitable" can sometimes take 5 to 20 years. What is one to do, in the meantime?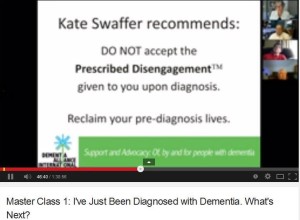 The lack of control over one's future can be very disconcerting. In this DAI Master Class, you will hear from two people who each have their own story of diagnosis with dementia, and who will share their wisdom about how you can gain control over your future and plan for a fulfilling life post-diagnosis.
Panelists:
Sid Yudowitch, USA (DAI Board Member)
Sue Stephen, Canada (DAI Board Member)
 Click on title above or click on the video below to view.
Diagnosis, follow-up, plus regular check-ups; people with dementia spend a lot of time with medical practitioners. But how do you talk with doctors? What questions should you ask? What information do you need to have ready? How do you make your point? How do you get the doctor to speak with you and not just your care partner? How do you get the answers you need? What do you need to know about your disease? About medications? About other treatment? How do you advocate for yourself?
Panelists:
John Sandblom, USA (DAI Board Member, person with dementia)
David Kramer, USA (person with dementia — medical doctor, retired)
Jennifer Bute, UK (person with dementia – medical doctor, retired)
Click on title above to hear panelists share their experiences of sitting on both sides of the table – physician and patient — how to make the most of a visit with the doctor, how to get the information you need, how to understand what the physician is telling you, and how to advocate for yourself.
September 17: Advocacy and Speaking Out. Click here for class information and to register.
September 24: My Conversation with My Family. Click here for class information and to register.
For a summary of programs and events offered by DAI, click on Dementia Alliance International Events.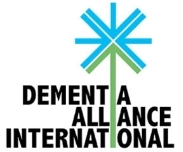 DAI provides support and advocacy — of, by, and for people with dementia. DAI invites people to be part of a global community of people with dementia. Contribute to projects, speak out, support, and be supported.
Click here for the DAI membership page.
Catch up on webinars you've missed and share them with others at  http://www.youtube.com/user/ameetingoftheminds