Dementia is not a natural part of aging. It is a disease like cancer, heart disease, and AIDS.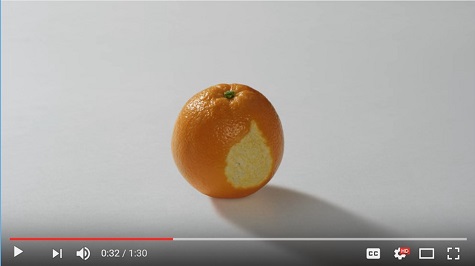 With clever animation by the makers of Wallace and Gromit, viewers see the damaging effects of dementia upon an orange. Why an orange? An orange is about five ounces —  the difference in weight between a healthy versus the Alzheimer's brain.
English actor, Christopher Eccleston, who also played one of the doctors in the British television series, Doctor Who, narrates this one-and-a-half minute video from Alzheimer's Research UK.
Eccleston's father had dementia for 14 years.
Click to view the video below or click on the link below the box.

https://www.youtube.com/watch?v=x9MvEZskR6o
#sharetheorange
Additional information about this video can be found by clicking here:
http://www.bbc.com/news/uk-england-bristol-35337554
The Four Leading Causes of Dementia
Alzheimer's Research UK (ARUK) enlisted Game of Thrones star, Iwan Rheon, to narrate a 4-minute video that informs about the four leading causes of dementia. Rheon's grandmother had both Alzheimer's and vascular dementia. Click below to view video on the ARUK site.
Game of Thrones star Iwan Rheon voices thought-provoking dementia animation