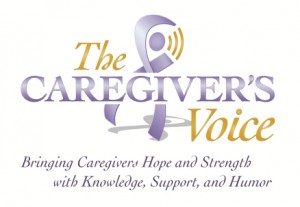 TCV's products have benefited thousands of people worldwide. We feel confident about our satisfied customers. However, we recognize that each of us is unique.
If you receive a product that does not meet your expectations, The Caregiver's Voice will refund your money (excluding shipping).
Since the mission of The Caregiver's Voice is to bring hope and strength to caregivers of adults with brain impairment through knowledge, support, resources, and humor, we want to continue spreading goodwill around the world, starting with YOU.
The Caregiver's Voice UNIQUE GUARANTEE:

Give the product away to someone who you believe will benefit from it. Yes, you read this right. We want to spread the message and even though we didn't meet your expectations, we ask for your help us to help someone else.

Send us an eMail letting us know:
what about our product(s) did not fulfill your expectation,
who you gave our product to and why,
the date of purchase and transaction number, and
where you want your refund sent.
This offer good for sixty days from the date of purchase on any product (books and articles) you purchase from The Caregiver's Voice website.