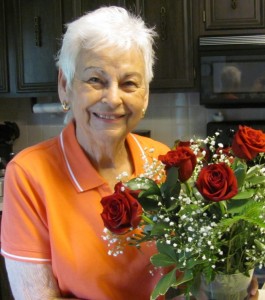 CONGRATULATIONS
Sue Long.
You are The Caregiver's Voice
Caregiver of the Month
Sue Long (my mom) is the strongest person I know! She has Type 2 diabetes and no longer produces any insulin. She relies solely on her insulin shots that she has to take for every meal. She never complains and puts her own health issues aside to take care of our dad. No matter what is going on in her own life, she always puts everyone else first and goes out of her way to make sure everyone is happy and has what they need. This is what you call unconditional love.
I am impressed by her selflessness despite her health issues like diabetes.  
— Long-distance caregiver for his mom
In 2007 we found out that my dad had bleeding on his brain and surgery was needed. None of us knew what the outcome was going to be. The surgeon had to wait 7 days to operate due to the medication Dad was taking. During those 7 days, the blood pushed his brain down, and even today you can still see the deep indentations this has made on the top of his head. The surgeon told us that after the surgery he may experience sundowning syndrome.
Help RECOGNIZE a caregiver.

Nominate TCV's next Caregiver of the Month.


Click on Caregiver of the Month Nominations for easy guidelines.
After Dad came home, he seemed like he was fine during the day then at night you could see a big difference with the sundowning. At that time, Dad was able to walk around on his own and he would be up and down all hours of the night. This meant that Mom was up and down all night too, trying to get him back into bed and make sure he was safe. His condition progressed slowly until February, 2012. Since then his health has rapidly grown worse. He became homebound; he cannot walk on his own, and cannot feed or bathe himself. He needs someone by his side pretty much at all times. My mom is someone who will not ask for help, unless she absolutely needs it.
Taking care of a person with dementia 24 hours a day is more tiring than taking care of a two-year old. Imagine being older, having diabetes, and taking care of your husband. More work than 99.9% of us can imagine.  
— Former Caregiver for his father-in-law
My brother, sister, and I have become much more involved these past few months, but my mom has been doing this the past 5 years.
It is hard to explain to someone else what you endure, unless you are experiencing it yourself. We did not know how intense the sundowning was until we started spending the night and saw it for ourselves. My brother Joe has been a rock for my mom. He is retired and only lives a few miles away. He has been there for her whenever she needs him, even sometimes in the middle of the night. Joe helps out a lot during the week and my sister and I spend the weekends.
Sue Long is the model of unconditional love that we all wish we could provide for others but few of us can attain for long.
— Caregiver for his wife and leader of a caregiver support group.
My mom is so good to my dad; she is kind, patient, loving, and she focuses all of her attention on him no matter how tired she is or how hard it may be at times. I see this when she is changing his pajamas and sheets in the middle of the night or when she has to keep waking him up while feeding him his morning oatmeal. She has gone through so much and we are trying to help her out as much as we can. Mom is a people person; she used to always be out shopping, going to yard sales, walking, and meeting up with her friends. But now since Dad is homebound, for the most part she is also. She gets out very little and when she does it is only for what she needs and she is right back home to take care of Dad.
Very inspiring story, especially when our culture currently accepts a divorce rate of over 50%. Great role model for what our families should be, love all around.  
— Nursing Home Administrator
She is a wonderful mother, grandmother, and wife. My dad is very lucky to have such a wonderful wife and caregiver and we are all blessed to have her in our lives. She is our hero!
Sue Long has had a long hard road caring for her husband. Her husband's journey will end while hers will continue. May she look back with pride that she was able to have 61-plus years with her husband.    
— Retired nurse and former caregiver
Nominated by daughter Karen Clark
Edited TCV Ed.
Karen Clark's UPDATE
My dad lost another 4 pounds this past week, a total of 24 pounds he has lost since mid-February, he is now at 113. We are seeing a huge change now each week. He cannot swallow, talking now in a whisper, and speaking only a few words. We noticed this past weekend, he now cannot turn over in his bed. I wish I could be as strong as my mom. Please say a prayer for him and my mom.

Sue Long, TCV's Caregiver of the Month of July will receive her choice of gift from (click on) The Caregiver's Voice FAB Five Gifts  at PersonCare.net