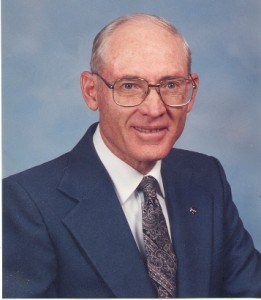 Thirty years ago, Ross Campbell's wife, Pat, had cancer.
She was diagnosed with paraneoplastic cerebellar degeneration. Pat's mental and physical functioning deteriorated slowly over the next twenty-five years. She lost her hand-eye coordination, and her ability to walk and think. Her personality changed and not for the better.
Despite this, Ross, of Pueblo, Colorado remained cheerful and unfazed.
As Pat needed more help, they got it. Both enjoyed finding ways around Pat's new challenges, and making the best of each new disability. I'm sure they both cried plenty in private, but they also milked every drop of joy that they could find in every day.
After Pat died peacefully at home in March, Ross went to a reunion in July of his hometown, Gardner. There he ran into his high school sweetheart, Rosemary. They had not married years earlier due to religious differences.
"It is joyful to be reminded that romance can exist during the twilight years of one's life. In spite of his experiences caring for his first wife over a long illness, Ross demonstrates his heart has an enormous capacity to love that he has been able to overlook the difficult journey ahead, to renew the passion he felt for and share his life with his high-school sweetheart. His story has the makings of a romance novel."
CotM Selection Committee Member & Caregiver to her Late Husband
At eighty, Rosemary had eleven children, and had been widowed eleven years. Ross had three children. Since it was highly unlikely that there would be any issue with raising children should they marry, Ross proposed on New Year's Eve.  Rosemary accepted. In May, like a couple of teenagers, they crossed the state line to get married.
Now, Rosemary's memory is deteriorating, and has been during their five years of marriage. She was diagnosed with dementia shortly after their wedding, but problems were apparent before that.
"To be a caregiver to two women he loved so much is truly amazing."
Selection Committee Member & Caregiver for her Husband
While it must be difficult at times, Ross takes tender care of Rosemary, making sure that she takes her insulin and medications everyday. Often, he takes her to see her daughters, and they look after her when he goes to chorus rehearsals. Rosemary is very content, feels totally safe and loved (which she is), and Ross remains totally in love with her. In turn, Rosemary enjoys every moment with Ross.
Watching them together is like watching two teenagers in love. Rosemary's children treat Ross like their own Dad, and when I thanked them for that, they told me that their mother had just existed after her husband died. Once Ross came back into her life, she started living again.
"…memory loss was apparent before Ross and Rosemary were wed. He knew what he was getting into and jumped in anyway."
Selection Committee Member & Family Consultant

"He took care of his first wife for 30 years with a personality change for the worse because of cancer treatment. Then he gets remarried and his second wife has dementia. If he wasn't around, these two people would have likely had a worse existence."
Selection Committee Member & Former Caregiver to his Father-in-Law
Ross lovingly accepts his role as Rosemary's caregiver. Just as he and Pat had done, he and Rosemary milk every last drop of joy they find in everyday.
Sharon Campbell
Daughter-in-law