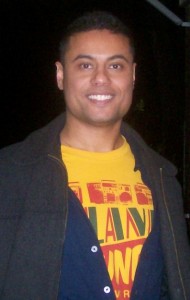 Since Nitin Samtani was 13, he has been taking care of his paralyzed mother. She suffered a severe stroke 16 years ago; a result of an aneurysm that almost killed her.
After awaking from a coma, she faced paralysis of her right side. Her mouth muscles were also affected and she was unable to speak.
Nitin Samtani has been by her side since. He has sacrificed vacations, youthful journeys, teenage years, and now young adulthood.
He holds fond and loving memories of his caring able-bodied mother. After her stroke, his mother's intense determination to become as independent as possible while trying to look after her family has kept him by her side all these years.
This man has given his youth unselfishly for his love for his mother. And to be a son taking care of his mother can be very difficult. I admire his compassion.
Mom's Caregiver & TCV's CotM Selection Committee Member
After Nitin completed high school, he commuted to a four-year college obtaining his degree while returning home each day after classes to look after his mom. He attended with student loans hoping his mother's condition would improve and he could pursue a career in his major after graduation.
Unfortunately, Mrs. Samtani's condition hasn't improved enough for Nitin to start working full time. Instead, his full-time job now is caregiver for his mother.
Nitin shows a lot of compassion. He is always smiling and never complaining. His attitude is remarkable; so is his mom's.
For a young person to give up his youth to care for his grandmother and mother for such a long time is extraordinary. Nitin Samtani and those like him make our world a better place to live.
Former Caregiver for Father-in-Law & TCV's CotM Selection Committee Member
I learn the lesson every time I visit about doing your duty in life no matter what–be it as a son, as a caregiver, or as a friend. I have seen him and his family go through many difficulties; including financial, physical and emotional.
Nitin says his mom's will and determination and her positive attitude have kept him positive and looking forward to better times.
It is always amazing to witness the capacity for sacrifice an individual can make; especially, in someone as young as Nitin. Kudos to him for being an atypical teen by accepting the responsibilities of caring for his mother and grandmother.
Former Caregiver for (late) Husband & TCV's CotM Selection Committee Member
During 12 of the 16 years he has been caring for his mother, he also looked after his grandmother, who lived with him since early childhood. When she was diagnosed at age 92 with breast cancer, Nitin transported her to all her radiation treatments and gave her more attention even as her condition worsened during the last 6 months of her life.
He is a caregiving role model for the young-adult generation.
Nominated by Hemant Wadhwani

The Caregiver's Voice will be sending Nitin several gifts:
A book,  How to Swallow Safely.
A Comfort kit, compliments of CaringBridge.org.
A DVD of The Brain, Its Functions, and The Power of Activities.