CONGRATULATIONS to Darlene Eiland – The Caregiver's Voice Caregiver of March!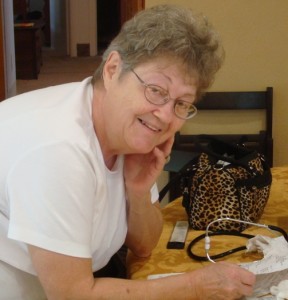 The Caregiver's Voice (TCV) is proud to recognize Darlene Eiland as TCV's Caregiver of the Month (CotM) for her vow to continue caring for her husband despite her own health challenges. Although, we at The Caregiver's Voice believe caregivers must care for themselves in order to better care for loved ones, the following (edited) nomination by her daughter, Amanda Schwab, inspires. (Ed.)
My mom, Darlene Eiland (pronounced Island), is a self-less and loving caregiver, despite her own pain, for my 75-year old daddy, who suffers from Alzheimer's.
Over the days and weeks, which have now rolled into years, she cares for Daddy with love, tenderness, and patience. Whether she persuades him to take his medication or changes his soiled briefs, Mother remains committed to care for him with kindness.
A year ago, Daddy was diagnosed with a cancerous colon tumor. After much prayer and consultations with the radiologist, surgeon, and Daddy's MD, Mother decided to not treat the tumor. Because of his advanced mental decline, she knew it would be in Dad's best interest to let his last years be as golden as they can be. He still has his fun sense of humor and an even sweeter personality. He knows my mother, his six children, and their spouses as well as most of his grandchildren. He lights up when any of us enter the room.
"Love, Tenderness, and Patience–This is what it takes, and it is much harder than it seems to keep these three words in the forefront of our minds and hearts."
Selection Committee Member
Family Caregiver for her Mom
Mom didn't want to sacrifice Daddy's good days—moments filled with laughter and reminiscences of yesteryear for the pain and sickness that would likely come from treatment. His quality of life now far outweighs his quantity of life and we all agree with her.
CARE in the FACE of OWN PAIN
The amazing truth about my mom is that she is totally selfless and relentless. Mother lives with chronic back pain. Having the first of seven back surgeries in 1983, she has never had a pain-free day. Just a couple of years ago, the best pain doctors in Dallas, Texas told her that there was nothing they could do to alleviate her pain. Almost daily, she steals brief moments for gentle rocking in an effort to "will away" the pain–to no avail.
Over the past three years, she has had several stents put in both legs and hips and one in her heart; getting word, early last month that she needs yet another stent put in her right hip. Even though she cried at the news, she remains strong for Daddy.
SKIPS FUNERAL to be with DADDY
They were recently separated for 10 days due to Mother's doctors appointments and when she received the call informing her that her oldest sister had passed on, she insisted on going home to Daddy rather than attending the funeral. Just a few days earlier, she had had the opportunity to kiss her bed-ridden sister and tell her, "Goodbye." She missed Daddy and wanted to get home to him.
CAN TAKE A FEW STEPS AT A TIME
With constant pain that prevents Mother from taking more than a few steps at a time without having to sit down to rest, hoping to lessen the pain, she still cares for Daddy without complaining.
"True love … I hope I'm able to handle my hubby's illness that well!"
Selection Committee Member
Caregiver for her husband
I've never seen her in a bad mood nor even a little bit grouchy.
She prepares him three meals a day, two of which are hot. She sees to it that a John Wayne video plays in the DVD player regularly. Daddy knows all of the words to his favorite John Wayne movies — it doesn't matter whether or not he can remember what just happened in the movie because he knows what's coming next. Mother quietly listens as Daddy interacts with the dialogue; it's important to her that he enjoys life.
HOW MOTHER RESPONDS TO REPITITION
When Daddy repeats himself, over and over and over again, she kindly replies, "Yes, Daddy, you did tell me that." Or perhaps, "You're right Daddy, I do remember that." And when his great-grandbabies are there visiting she reminds him, "That's Hudson, Nique's little boy," and "Yes, Daddy you're right, that little boy is Whitney's," and "Yes, he does look just like her."
"Such sacrifice and giving of oneself toward the care of her husband is incredible … As selfless as she is, she mustn't overlook the cardinal rule for caregivers: Look after yourself."
Selection Committee Member
Caregiver for late husband
LONELY TEARS
There are times I'll catch Mother crying, alone, away from the rest of the family. I know her life is very difficult. I'm sure it would be much easier to just put Daddy in a home and let someone else take care of him. Truly, none of her children would blame her and we would all understand. Victims of Alzheimer's can be stubborn, uncooperative, demanding, and at times mean and our mother has so many health issues of her own. Still, knowing Daddy's feelings on going to a facility, she will care for him until God welcomes him home.
"Inspirational and heartwarming to read about the love and devotion between a couple after fifty years of marriage."
Selection Committee Member
Professional
Mother and Daddy will celebrate 53 years of marriage on March 23, 2011. I am certain, the last 12 years are not what she signed up for, but when she said, "I do," she meant it. And now, even in advanced Alzheimer's, she still does.
Nominated by Amanda Schwab
Darlene's Daughter

And a final comment from one of our selection committee members who is between caring for his (late) in-laws and mother:

It is emotionally difficult reading these nominations. They remind me of my own grandparents, parents, and in-laws. It is hard to choose because each caregiver is worthy in his/her own way. I can say that my own troubles seem quite small when reading these nominations. A dose of perspective while reading about loving acts that people perform daily is quite potent–a gift in its own right. This is a good program Brenda, and I am gratified to be a part of it.
The Caregiver's Voice will be sending Darlene two volumes of Finding the JOY in Alzheimer's to give her moments of respite that are filled with JOY. Click on each book cover for more information.