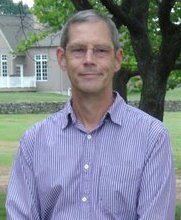 CONGRATULATIONS Jim Buckley.
You are The Caregiver's Voice
Caregiver of the Month.
He has strength of spirit and gentleness of heart. He is a hero, better than Ironman.  
— Geriatric Care Professional
It isn't easy keeping a relationship alive (and growing) following a traumatic brain injury.
The injured person is self-absorbed, relearning, and discovering who she is, needing the uninjured partner to be flexible and patient as well as to understand that the person he is married is gone but is also alive. So, too, with effort, can be the love.
Jim Buckley reveals the incredible depth of human spirit when inspired by love. To serve as caregiver when the other person is self-absorbed and emotionally unavailable for extended periods can be very draining and can lead to many other issues. Jim rises above all that.
— Caregiver for his wife and leader of a caregiver support group
We were married for almost 5 years when I had my first brain injury.
After weeks in the hospital and out of state, I finally returned home. His work schedule required him to be up and out the door by 5:30 am after planning my meals the night before. He'd return at 5:30 pm at which point 3 days a week he drove me to physical therapy, falling asleep in the waiting room while I relearned to walk. He did all meal planning and food shopping, laundry and housekeeping. I asked him to leave me because I was not who he married. He laughed.
A sense of humor while caregiving is a beautiful thing.   
— Long-distance caregiver for his mom
Will YOU bring JOY to a caregiver?


Nominate TCV's next Caregiver of the Month.


Click on Caregiver of the Month Nominations for easy guidelines.
I had my second brain injury 21 years later.
He stayed by my side in shock trauma the 2 weeks I was there, supporting, loving and advocating.
He is amazing in caring for his wife. Not many men would be there through thick and thin.     — Retired nurse and former caregiver
When I was discharged, he got me home, into the house and into bed, waking every half hour that night to make sure I was OK. He created a web page so my friends could keep up with my health status. I never felt alone.
This is a real heartwarming story of love, family and caregiving, with the unusual twist that the caregiver is the husband, where we generally see this role being taken by the wife. While there are lots of heroic stories, I would say that Jim is a true hero.    — Nursing Home Administrator
He is the ultimate advocate, never forgetting that an advocate does what I want rather than what he wants.
When one spouse suffers brain injury, it places a lot of stress on the marriage. Jim takes it a day at a time, dealing with what is here now. He exhibits one of the root purposes of marriage that many people disregard today — commitment.
— Former Caregiver for his father-in-law
We have lost much of what we shared in our early years. No more long walks and hiking in the woods, no more playing Frisbee, no more travel. We still have long talks and loving looks, shared history and love and admiration for the strength of the other.
Jim's wife is truly blessed to have him in her life. We caregivers are also blessed to have someone to love and care for. When you are caring for someone who does not know who you are or is absorbed in his/her own life, it takes a special person to continue to love and care.    — Caregiver for a friend
While he says I am a hero, he is mine.
He was there when his wife most needed him, and balanced caregiving while working full-time too. He could have left — she gave him an out — but he stayed, and supported her, and helped make it easy for her friends and extended network to offer their support too (via the website). Sounds like a great guy — well deserving of the honor.  — Social media marketer focused on supporting caregivers

Nominated by Cari Watrous, Jim's wife
Slightly edited. TCV Ed.


Jim Buckley, TCV's Caregiver of the Month of August will receive his choice of gift from (click on) The Caregiver's Voice FAB Five Gifts  at PersonCare.net