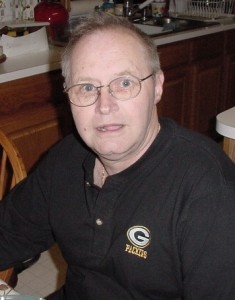 CONGRATULATIONS Don Mc Cormick
The Caregiver's Voice Lewy body dementia
Caregiver of the Month.
Five people submitted nominations for Don. Each nomination begins with a numbered bold sentence. At the end are Don's comments. Click on images to enlarge. (TCV Ed.)
So many positive, heart-warming nominations! He sounds like a hardworking man of strong character, willing to learn as much as he needs to in order to best care for his wife, and may be in need of reassurance and support for his caregiving as well.
– Social media marketer focused on supporting caregivers
1. Donald "Don" McCormick is my father. He always worked hard to care for and support our family when our family was dealt a hand of cards that threw us for a loop. My mother was diagnosed with Parkinson's disease. A few years later, we were told that her diagnosis was actually Parkinson's disease with Lewy body dementia.
My mother started showing symptoms in 2003, but we really noticed them at my bridal shower, a year later. My mother who was normally in charge of everything and wasn't afraid to speak up was secluding herself. In 2006, Mom was formally diagnosed after changing doctors to ones who actually care about people, not the money.
In celebration of National Family Caregivers Month
and National Alzheimer's Awareness Month,
Follow the easy guidelines at (click on)
Caregiver of the Month Nominations.
Since 2006, my father has done everything he can to help and support my mother. He has researched information on military benefits, shared his knowledge to help other military retirees get the benefits they are entitled to, read as many books on the subject as he can get his hands on, attended support meetings to gain more knowledge, and participated in a walk for Parkinson's in Washington DC.
Dad has given up things that he loves in order to make sure Mom has the best care possible. He will take Mom for rides in the car when she wants to "go home" even though he knows that they are already home. He ensures that our family knows what is going on with my mom through morning emails. He sold their dream home so they could move into a more secure single-level home.
I really like Sherri's note that "Dad will take mom for rides in the car when she wants to 'go home' even though he knows they are home…" and how he rolls with the punches of life vs. planned retirement travel.  I was disturbed by the comments about the support group that wasn't too supportive.  — Long distance caregiver for his mom.
My dad is there with my mother 24/7 as primary caregiver, venturing out on his own only when a senior care worker is at the house, or my husband and I are able to be there.
My parents retired to be able to travel, but God had other plans. Their travel is limited – which is difficult for a Navy family used to moving every three years. Through it all though, my dad is there for mom no matter what. He does everything to make her life as easy as possible. I know that he would be honored to be Caregiver of the month, and it would be a major ego boost for someone who thinks that he does everything wrong.
Nominated by daughter, Sherri Fortun in Manassas, Virginia
2. Donald McCormick devotes every waking moment to caring for his wife Marie who has Parkinson's disease (PD) and Lewy body dementia (LBD).
He has moved house so they could be in a more suitable home for Marie's comfort. He has adapted his home accordingly for her comfort.
He is completely and entirely dedicated to his wife and gives his entire life to caring for her.
Don served in the US Navy. After that he worked for many years for AT&T and looked forward to a happy retirement with Marie. PD and LBD took hold of their lives and their plans were destined never to come to pass. But Don just accepted what was to be and decided to devote his life, without question, to caring for Marie in their home.
I admire Don for his selflessness, his compassion and his dedication to his role as his beloved Marie's caregiver. I can't think of anybody who deserves this award more.
Nominated by friend, Dr. Bernadette Brady in Dublin, Ireland
It's heartwarming to see a community want to recognize a caregiver when the job is so often unseen and underappreciated. – Caregiver for his wife and leader of a caregiver support group
3. Don has shared his caregiver experience with many people. He is always truthful to a fault. He shares the good as well as the bad that happens in the life of a caregiver. He has been judged harshly and needs some reassurance that he is the best caregiver a person could have.
Nominated by Marcus Bennett in Olney, Illinois
He's been the sole caregiver for his wife for the last 8 years, 24/7. Caring for someone as you age becomes a greater and greater challenge. Although not as rare as in the past, a male caregiver of a female is still not as common. Donald seems to have created a small help network, which is also unusual for a male caregiver. We can all learn from him.   — Former caregiver for his father-in-law
4. Donald is caring for his wife Marie who was diagnosed with Lewy body dementia. For over eight years, he has stuck by her side through thick and thin. Caring for her at home, his love for her is obvious.
Donald, a Navy Veteran, contacted me a few years ago to ask for advice after reading my weekly column–Common Sense Caregiving. He has a step-up on most caregivers, because he has learned when to ask for help, which is something I wish for all caregivers.
Nominated by Gary Joseph LeBlanc in Spring Hill, Florida
5. He is a loving caregiver for his wife, Marie, who has Lewy body dementia. Donald does everything for Marie from bathing to dressing her, from feeding her and giving her medications, to making sure she goes to her doctor's appointments.
He needs his morale boosted after having his confidence beat down by his support group. They pulled him from the group when he asked for help, understanding, and support; Don and Marie have been married for a long time and have raised two children.
Donald is someone I'm proud to count as a true and supportive friend. I feel he deserves this recognition as he has touched many people's hearts … for his hard work for his loving wife.
Nominated by Kathy Guess in Kalamazoo, Michigan
He must be a remarkable person for so many people to believe in him and support him as a caregiver.    — Retired director, Caregiver Resource Center
Slightly edited. A space appears between Mc and Cormick because Don says this is the way he's always spelled his name. (TCV Ed.) 



Don Mc Cormick, TCV's Caregiver of the Month of October will receive his choice of gift from (click on) The Caregiver's Voice FAB Five Gifts at PersonCare.net
The Lewy Body Dementia Association will send Don Mc Cormick 4 gifts –– Elizabeth P. Tierney's Dignifying Dementia about her nine-year journey of discovery caring for her husband with LBD, a $25 VISA card,  a $25 CVS gift card, and a copy of Ginnie Horst Burkholder's book, Relentless Goodbye.
Don Mc Cormick, The Caregiver's Voice Caregiver of the Month, writes:

My wife and I have been married for 49 years. She followed me around during my 20-year Navy career.

I retired from the work force in 2005 to care for my mother who had vascular dementia and congestive heart failure and to care for my wife who was diagnosed with Parkinson's at the time.

In 2008, Marie had an incident with memory and confusion. She was diagnosed with Lewy body dementia. Two years later, she had vertigo also known as the "Lewy lean." This changed everything for us as she needs someone near her 24/7.

After being placed on Azilect (Rasagiline), which confused her (it could have also been the disease advancing, and with her memory and agitation getting worse, she was put on Namenda, which seemed to help her improve. Today, she has periods of lucidity and sometimes she has no idea who I am.

I just hope and pray she won't keep suffering and that they will have a cure soon.