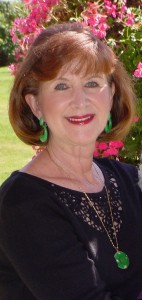 CONGRATULATIONS Claire Abel for being named The Caregiver's Voice Caregiver of the Month of January, 2012!
Nominated by Claire's sister Linda Van Kessler
Claire Abel is my sister who has been caring for our 102-year old mom for the past fifteen years in her (Claire's) home after our dad passed away.
Claire now devotes almost all of her time to caring for Mom.
Claire Abel selflessly devotes her time (and her life) to caring for her mom.
— Family Caregiver Consultant and TCV Selection Committee Member
She decorated Mom's bedroom, filling it with Mom's most-treasured photos and possessions from a full life lived well.
She styles Mom's hair and makeup and always makes sure she looks her best with clothes and jewelry.
As Mom's mind is now starting to fail more and more, Claire has to increasingly do everything for her including caring for her bathroom needs, which is often nauseating. Yet she loves Mom unconditionally, vowing to keep her in her home as long as she possibly can.
…the love and caring have gone far beyond anything that is ever expected. Caring for a loved one for 15 years certainly goes far beyond ordinary love and caring, it's extra-ordinary. My hats off to Claire, and a truckload of admiration too.
— TCV Selection Committee Member and Nursing Home Administrator
Although there is a lot of stress on Claire when Mom becomes agitated or forgetful or even angry or repeats the same question ten times in a row, she gathers the strength to press on with love.
I was taken by the extra TLC in decorating the bedroom with pictures and mementos. Who knows how much recognition lurks beneath the fog of a failing mind? I also appreciated how she ensures the mother has on her clothes and jewelry each day, surely not an easy task with someone who can be combative (agitated and forgetful). We should all be so lucky if we reach 102!
— Long-distance Caregiver for his Father and TCV Selection Committee Member
I know this is not an easy task. This takes a huge physical, mental, and emotional toll on Claire and has caused her to put her life on hold to make sure Mom is not alone or falls or injures herself.
Unless you witness firsthand the trials and frustrations of a caregiver for the elderly, you can never truly appreciate what they go through.
What moves me … is the constant care for the last 15 years. Each day, throughout all those years Claire has … had to do a little more each day as her mother becomes less and less able to do things for herself. If Claire starting doing this at age 50, she really hasn't had much free time in her 50's or 60's. I chose her because of the length of time she has been doing this, and because Claire is getting older too and probably can't do things she used to be able to do.
— Former Caregiver to his Father-in-law and TCV Selection Committee Member

TCV's Caregiver of the Month Selection Committee inquired about Linda's role in caring for her mom after her sister, Claire, was selected as a finalist.  Linda explains:
Although I live about fifteen miles away, my husband and I have our own full-time business. Additionally, each day, we are hands-on with our own children's charity. My son and daughter-in-law are expecting my first grandchild, so I try to spend more time with them. I try to see Mom as often as possible or bring her to our home for the day; however, our life circumstances are different than Claire's, who has no children and whose husband is retired.
Linda's nomination and explanation have both been edited. TCV Ed.