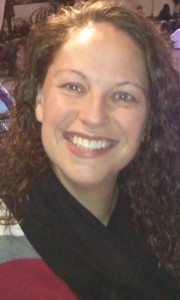 CONGRATULATIONS Cindi Braud for being named The Caregiver's Voice Caregiver of the Month of March, 2012!
(Cindi was nominated by her friend Tina Cantrell who submitted a list of reasons why Cindi should be recognized as Caregiver of the Month.)

So many reasons to list – I hope I have room!
Cindi is a 40-year old caregiver for her 43-year old husband with Alzheimer's.
Alzheimer's Disease can be devastating, but it is even more difficult to see someone in the prime of life brought down by this disease. We applaud Cindi's bravery, love, and willingness to be there for her husband.            
— Geriatric Care Manager and Executive Director
She raised the most funds for the State of Mississippi during the last two years.
Cindi has taken her husband to California, Las Vegas, and Missouri seeking treatment.
Alzheimer's is hard enough to deal with not to mention early-onset and the years of caregiving ahead. I wish Cindi all the best and God's blessing too.        
— Nursing Home Administrator
She immerses herself with Alzheimer's events as often as she can – including health fairs.
Cindi won the Volunteer-of-the-Year Award (2011) at her place of employment.
She keeps her husband active by enrolling him in painting classes and going to Hornets basketball games on a regular basis.
Cindi enthusiastically shares her story with those who will listen.
She certainly has a full plate keeping her husband's mind involved and body active. Kudos to them for sharing their story and their fund-raising efforts.                      
— Retired Nurse and Former Caregiver for Mom
She will offer a shoulder to cry on when she hears others who are also caregivers.
Cindi provides information whenever and to whomever she can.
Together, Cindi and her husband, Jon, have given many local interviews about his early-onset Alzheimer's and are eager to get their story told nationally.
At only 40 years old, working full time, while also caring for her husband…all I can wonder is how much sleep is she getting? (Not enough.)  This shows that Alzheimer's is not just an old people's disease.
— Former Caregiver for In-Laws
They chose not to have children–the risk of passing on the Alzheimer's gene is too great. Jon's father died of the disease, as did his grandmother.
Cindi manages ALL this while maintaining a FULL-TIME JOB!
I am impressed that she is able to work full-time and maintain this level of caregiving. I like that she is an outgoing advocate and willing to share her experience as she lives it–no small task!
— Long-Distance Caregiver for his Parents
Cindi is amazing! She is a HUGE advocate and LOUD voice for Alzheimer's on the Mississippi Gulf Coast.
Please allow her voice to be heard even more!

Cindi Braud, TCV's Caregiver of the Month will receive her choice of gift from (click on) The Caregiver's Voice FAB Five Gifts from PersonCare.net and a copy of The Gift of Caregiving: Daily Inspirations, Affirmations, and Tips by Rebecca Sharp Colmer.

Tina's nomination of Cindi has been edited. TCV Ed.

Now, it's your chance to nominate April's Caregiver of the Month with a Heart of Gold.
Read (click on) Caregiver of the Month Nominations – Heart of Gold
Due March 10, 2012