NOMINATE the Caregiver of the Month of March
NOMINATIONS NOW OPEN for Caregiver of the Month
Click on the link above to nominate The Caregiver's Voice
next Professional or Family Caregiver of the Month.
January 2012 Caregiver of the Month, Claire writes (edited):
I thank my sister, Linda, for nominating me for this award, … it came as a complete surprise. It is an honor for me to have been chosen to receive The Caregiver's Voice Award and I appreciate the kind words of the committee, which led to their decision.
— Claire Abel, Caregiver to her mother and TCV's Caregiver of the Month

To read more of Claire's comments, click on her picture and read all the other comments she's received! WOW!

Bob Finnie of PersonCare.net has partnered with The Caregiver's Voice to give each Caregiver of the Month a gift. Claire chose the Beautiful Flowers DVD.
Click on image for information.
Visit PersonCare.net for products to help make your life easier.
Claire also received a signed copies of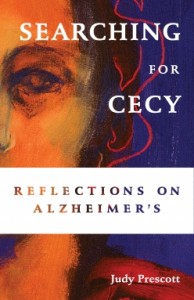 "Where's my shoes?" My Father's Walk through Alzheimer's and Searching for Cecy – Reflections on Alzheimer's.   Click on book covers for more information.

Remember, Click on NOMINATIONS NOW OPEN for Caregiver of the Month to submit your nomination for TCV's next Family or Professional Caregiver of the Month. Self-nominations are welcome.
Brenda Avadian, MA
Alzheimer's / Dementia Caregiver, Expert Spokesperson and Coach
Author of "Where's my shoes?" My Father's Walk through Alzheimer's