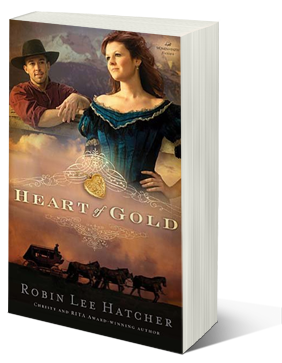 The Caregiver's Voice Caregiver of the Month recognition program is partnering with best-selling inspirational romance author Robin Lee Hatcher to recognize our Caregiver of the Month with a Heart of Gold.

Hatcher embraces caregiving first-hand and through her writing. Her just- released (Valentine's Day) novel, Heart of Gold, finds Shannon Adair whose greatest satisfaction is serving as a volunteer caregiver.
Nominations for The Caregiver's Voice Heart of Gold Caregiver of the Month of April are open to any caregiver (male or female; volunteer, family, or paid professional). Self nominations are also welcome. (Nominations are due March 10, 2012.)  For information, visit Robin Lee Hatcher's News page.
Robin Lee Hatcher will collaborate with The Caregiver's Voice selection committee to choose the finalists for this contest.
The Caregiver of the Month of April with a Heart of Gold will receive a special gift — a heart of gold from Robin Lee Hatcher.
After reading the guidelines at Robin Lee Hatcher's site, be sure to NOMINATE TCV's Caregiver of the Month with a Heart of Gold–using the same easy form we use for our monthly caregiver recognition program.
Be sure to add "Heart of Gold" at the top of your nomination to receive an acknowledgment eMail from Robin.
All nominee submissions (through The Caregiver's Voice's direct channels and through this "Heart of Gold" collaboration) will be evaluated equally and are eligible to receive both the Heart of Gold and a choice of one (of four) gifts from PersonCare.net.
Caregivers with a Heart of Gold deserve recognition. We look forward to receiving your nomination.

Brenda Avadian, MA
Alzheimer's / Dementia Caregiver, Expert Spokesperson, Coach, and Author
Editor, TheCaregiversVoice monthly Newsletter and The Caregiver's Voice Book Review