The Lewy Body Dementia Association has invited The Caregiver's Voice to help recognize a Caregiver of the Month who best cares for one with Lewy Body Dementia.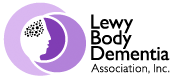 Lewy body dementia (LBD) affects an estimated 1.3 million individuals and their families in the United States. It is currently widely underdiagnosed because LBD symptoms can closely resemble other more commonly known diseases like Alzheimer's and Parkinson's.
"The general public, and far too many primary care doctors and nurses, have never heard of LBD. In addition to trying to manage a very difficult disease, LBD families find themselves in the unanticipated role of educator and advocate," says Angela Herron, President of LBDA's Board of Directors.
On October 1, 2012, the Lewy Body Dementia Association celebrates "A Month to Remember" and joins The Caregiver's Voice to recognize a caregiver for one with Lewy body dementia.
NOMINATE TCV's LBD Caregiver of the Month of October (click on link).
For this month only, all nominated caregivers must care for one with Lewy body dementia
(or at least one person with LBD for professionals).
Self-nominations are welcome. Open to family and professional caregivers.
DUE 10 September, 2012.
Finalists will be contacted the week of the 17th of September.
The LBD Caregiver of the Month will be named on October 1, 2012 and receive his/her choice of gift from The Caregiver's Voice FAB Five Gifts from PersonCare.net.
The Lewy Body Dementia Association will also be giving the recognized caregiver two books

The Caregiver's Guide to Lewy Body Dementia by Helen Whitworth
Dignifying Dementia by Elizabeth Tierney  (click to read TCV's review of Tierney's book.)
and a $50 Visa Gift card.
Help bring awareness and recognition of caregivers
for loved ones with Lewy body dementia.
Brenda Avadian, MA
Founder, TheCaregiversVoice.com
Dementia Caregiver, Expert Spokesperson, Coach, and Author
The Lewy Body Dementia Association (LBDA) is a 501(c)(3) nonprofit organization dedicated to raising awareness of the Lewy body dementias (LBD), supporting patients, their families and caregivers, and promoting scientific advances. Through outreach, education and research, LBDA supports those affected by Lewy body dementias.