John Roche cared for his mother in his home for the last ten years of her life. He admired all she'd been through – strokes, paralysis, and raising three children, mostly alone. He looked forward to caring for her. What he didn't expect was the toll it would take on him and his mom.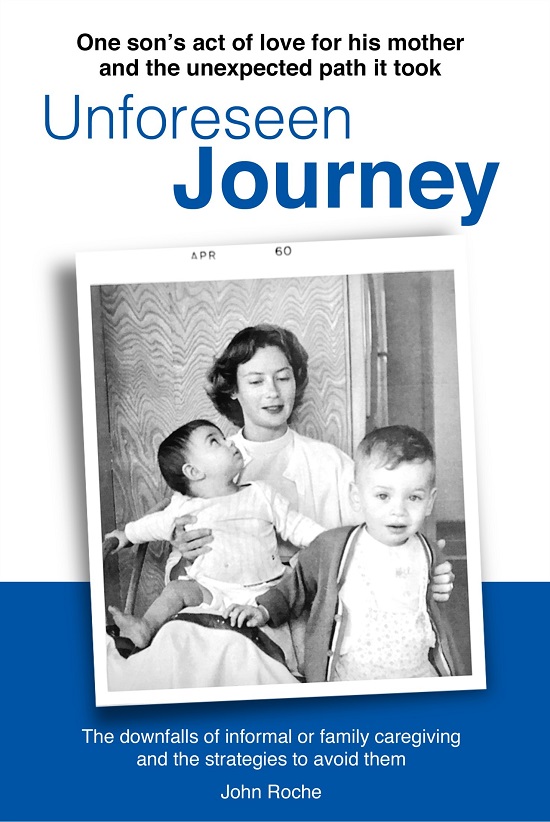 Unforeseen Journey candidly recounts an eldest son's desire to care for his mom; and in doing so, suffering one major regret.
Some will say I'm just being hard on myself, but I was there.

My ignorance about the caregiving process and the effect it would have on my life altered the care I provided for my mom.

At the very end, I was not ready to handle something that would change the course of her life.
John Roche, physical therapist, was 48 years old when he moved his mother into his home. A divorced father of three, he cared for her for ten years. The oldest of three children, he wanted her to be with friends and family. He didn't believe she deserved to be cared for by strangers in a nursing home.
Inspired by her "strength, bundled in sweet softness and modesty," John didn't see himself as a hero. Instead, he wanted to gift his mom with loving care after everything she did for her family. After all, he admired her determination despite paralysis to her left arm and leg following two strokes – one at age 32 and the other at age 55. She was a woman of fortitude who adjusted her life around her physical limitations to raise three children while her remote pharmacist husband struggled with alcoholism.
Unforeseen Journey serves two purposes. One, it is a caregiver's catharsis that repeats self-inflicted regret. More importantly, it is a gift for caregivers, to learn John's honestly told lessons learned from a place of heartfelt humility. Several times, he addresses the struggle between two relationships – the desired one between a mother and son verses caregiver and care recipient. It's a short (130-page) book that inspires caregivers to take stock of their own experiences, especially during periods of stress, overwhelm, and burnout.
While John blames himself for hastening his mother's death, I don't agree. Had he known, he would have done better. This is true for all of us. We cannot agonize over the years, wondering "what if" when we didn't know, initially. He dove deep into his role as caregiver as he tried to balance multiple areas of his life – work, fatherhood, and relationship with Darlene. He kept his mother's care at the forefront for more than ten years, that's more than 3,650 days. He did the best he could with what he knew. In hindsight, his experience offers lessons for other caregivers who might not take advantage of respite periods.