Thorlos socks for caregivers' sore feet.
I've run two marathons and have the distinction of running, hiking, climbing in sandals. I wear a thin pair of toe socks under a heavy pair of padded socks. In between, I position gel pads under the balls of my feet during day-long hikes.
No more!
As a former caregiver, runner, and now, trail hiker, I was happy to be reintroduced to Thorlos-branded socks. I've purchased various Thorlos (hiking, running, cross training) over the years and found them to be comfortable and fast drying (important for overnight hikes and climbing Mt. Whitney).
I stopped buying them after I stopped running long distances and experienced a deep ring around my leg at the cuff of the sock. I found a comparable pair at Big Five featuring padded cuffs.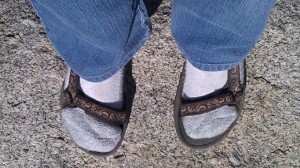 They accommodated my preference to hike in sandals, even almost to the top of Mt. Whitney! But they were inexpensive socks without a lot of "technology."
It's true; you get what you pay for!
Since our feet are our foundation and we spend a lot of time on them, it's important to take good care of our feet, otherwise small problems will accumulate over the years into potentially bigger ones.
A few years later (earlier this year), Thorlos' Consumer Advocate contacted me via Twitter (@CaregiversVoice) to see if I'd like to try their new socks.
I hesitated … until the advocate informed me that Thorlos was releasing specially designed socks for the 50+ crowd (I'm listening!) to cushion the natural fat pads (across the forefoot). He added that they were also looking at how these socks might measure up for caregivers who are on their feet all day.
I didn't hesitate this time. I had been dealing with arthritis in my toes after running a couple a marathons. I needed to try these socks to see if they really did cushion my feet.
Soon two types of crew socks arrived in my mailbox. To be clear, Thorlos calls them mini crew and micro mini. One pair was the 84N Runner and the other, socks for Distance Walking.
They both work as promised. They are amply padded yet fit nicely and cushion without being bulky. They fit easily in hiking shoes and work with my sandals without having to add any gel padding.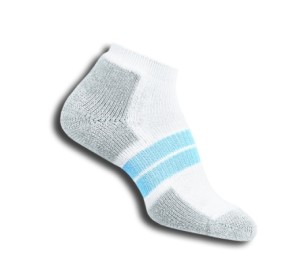 While the blue running socks do not have padded cuffs and leave an indented ring above my ankle, the pink distance walking socks come with padded cuffs and are a perfect choice for caregivers.
Sure, they cost a little more, but your foundation is worth it. These are the only feet you'll have in your lifetime, so it's best to take care of them and they'll likely serve you for many years without pain.
I'm glad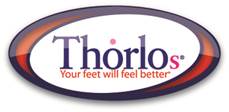 I had an open mind to try Thorlos new socks for caregivers and people over 50. Try them and see what you think!
For some of my hiking adventures and marathon, visit any of the posts featured on this page.