Carole Mulliken provides this month's review of the book, The Inheritance for The Caregiver's Voice REVIEW.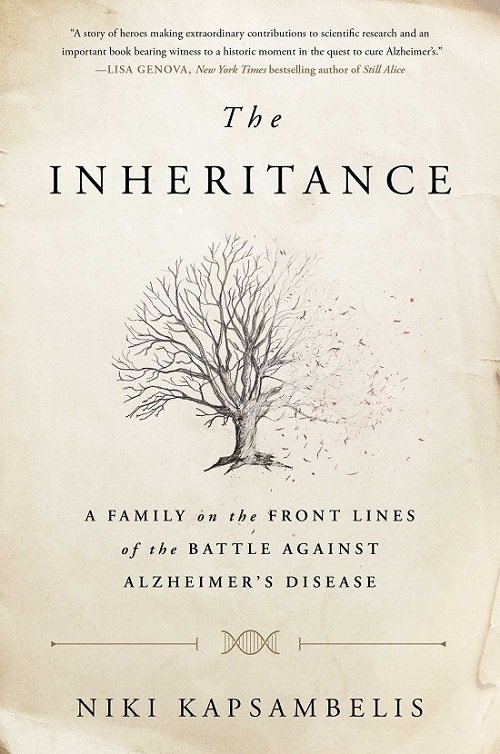 If you are a caregiver for a person with Alzheimer's, you know that caregiving can be a 24/7 in-your-face challenge. Sometimes, it lasts for decades. The Inheritance is a sweeping saga of the ill-fated Galen and Gail DeMoe family.
The DeMoe Family of North Dakota
The DeMoes moved to Tioga, North Dakota, so Galen could work in the booming oil fields. It was profitable but dangerous work for a healthy, hardworking, conscientious man like Galen. The couple raised six children in Tioga. The DeMoes were a "salt of the earth"-type family and the centerpiece of the town. Their home was large, loud, and riotous with all the growing children. It was always open to others who came to eat Gail's delicious and ever-present cooking and to talk.
Close family, financial security, and the respect of the whole town revealed a charmed life. That is until Galen developed Alzheimer's disease while working on the oil rigs. Galen's mother Wanda had unknowingly passed onto her son the mutation of a gene that guaranteed he would develop Alzheimer's disease in midlife.
Younger-Onset Alzheimer's Devastation
Younger-onset Alzheimer's emerges at a point when a person is at peak earning capacity as DeMoe was. During a time when he has the greatest financial and family obligations, his devastated family must cope with his total care.
Severe personality changes, mood swings, incontinence, aggression, and violence take over.
What is it like to have to move a forty-five-year-old brother into your home? To feed, clothe, entertain, supervise, and change his diapers? To dodge his accusations and remember to keep a solid piece of furniture between you lest his blows connect with you?
The DeMoe family knows.
Incapacity, personality changes, total dependence, and early death would soon follow.
Research into Younger-Onset Alzheimer's
The Inheritance also follows the work of many dedicated and courageous medical researchers. Huge budget cuts and non-supportive professional communities burdened their research. Some trekked through the dangerous Columbian countryside seeking extended families of people with the autosomal dominant mutation causing younger-onset Alzheimer's. They collected family histories, vials of spinal fluid, blood samples, and sometimes brains carried in plastic pails. One female researcher, kidnapped by guerillas, ordered her captors to keep her samples chilled until her release. Incredibly, they did. Notable was Dr. Francisco Lopera, who trudged on foot over winding and muddy footpaths to find the many affected people from the Paisa region of northwest Columbia.
These genetic sleuths hoped to discover which of the twenty- to twenty-five thousand genes had mutated to cause Alzheimer's. Meanwhile, biochemists labored to develop tracer molecules to stain brain tissue slides for microscopic study. The challenge was finding a molecule capable of slipping through the protective blood brain barrier. If they could stain the amyloid plaques and tau tangles clogging neurons, researchers might learn enough to prevent, treat, or cure Alzheimer's.
Statistics throughout the book convey the urgency of finding a cure. Author Kapsambelis' compelling story of the DeMoe family underscores the shattering impact of younger-onset Alzheimer's. She sees the DeMoes as courageous and heroic in their commitment to travel to distant research facilities. They were scanned with radioactive isotopes. This allowed researchers to follow the progression of plaques and tangles, whether they had inherited the mutated gene or not. Some agreed to donate their brains post-mortem. Only one of the six children escaped the inheritance. All six and their many children decided to make a difference in the lives of future families. They all contributed to research to find a cure.
The Inheritance is journalist Niki Kapsambelis' first book. Her research is well-documented. She weaves the DeMoe family members' colorful story into a vivid tapestry as she breathes life into our scientific understanding.
A worthwhile read to understand what caregiving families for people with younger-onset dementia may experience day to day.
The Inheritance- A Family on the Front Lines of the Battle Against Alzheimer's Disease by Niki Kapsambelis – Amazon.com- Books
Carole Mulliken is a retired writing teacher and moderator for a message board for the Dementia Advocacy and Support Network International, the first international online support group for people with dementia. Its archives include more than 35,000 messages.