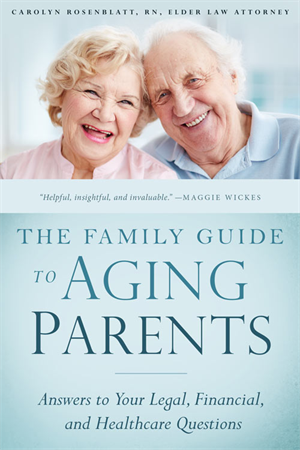 The Family Guide to Aging Parents is a must-have resource for family caregivers and the professionals who help them.
Carolyn Rosenblatt, RN, Elder Law Attorney offers an independent and balanced view of the spectrum of care options and issues families will face as their parents age.
Her key message throughout is that we must take small steps over time to intervene. Otherwise, a crisis will occur and we will find ourselves in "panic and extreme stress."
Who wants that? Much less, who deserves that?
If you're willing to take steps now to prepare, here's what else you'll find beneficial.
Self-contained chapters to address your needs wherever you may be in the caregiving continuum—caring for your parents from a distance to helping them find nursing care and everything in between including her steps with compassion to limit elder driving.
A comprehensive yet neutral approach. Nothing is off the table including questions such as: What if I decide to hire an independent home-health care worker and not pay taxes (e.g., Worker's Compensation)? What should I not expect from assisted living (due to licensing restrictions)? Who are the more frequent perpetrators of elder abuse and why?
Sprinkling of her own experiences, successes, and failures enhances her connection with her readers. For example, she looked for quality care for her 92-year old mother-in-law who still lives independently 600 miles away. After researching Geriatric Care Professionals (she shares guidelines especially about licensing), the first was unreachable and later found to have been out of town. The second turned out to be a more professional choice. In another example, Rosenblatt describes how she and her psychologist husband weighed the pros and cons in their lives before choosing to buy long-term care insurance. Despite her choice, she admits it's not for everyone and explains why—an example of her balanced approach.
Including resources within the text of each chapter right where she discusses them for easy and immediate reference—especially, for eBook readers. She also includes resources at the end of each chapter and others in the Appendices.
I wish the paperback edition featured:
Chapter titles along the page headers to facilitate easier navigation for this resource book, instead of title and author.
Subheadings that are easier to read instead of the faint gray type.
These two book design elements do not diminish the value and benefit of Rosenblatt's work for families and the professionals who guide them.
Whereas, resources sometimes skew to reflect their authors' professions, biases, and even agendas, Rosenblatt offers us one of the more balanced resources to come along in a long time. Although, I give away almost all the books we receive for review consideration, her book will have a home on my resource shelf.
Click for more information about Rosenblatt and her work through AgingParents.com